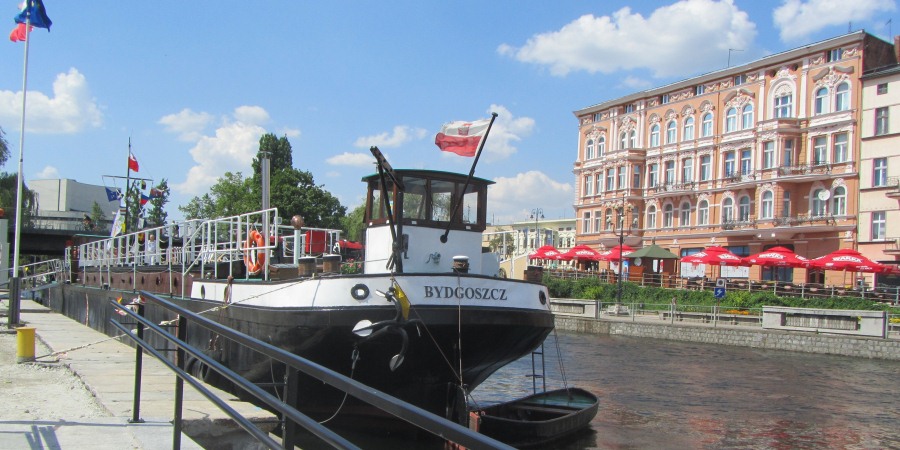 Lemara Barge, moored at the bank of Brda river, right next to the symbolic Bydgoszcz granaries, is a very unique place. It is both a technology monument and a symbol of a very important part in the history of Bydgoszcz.
Because it is thanks to water and sailing that Bydgoszcz flourished so impressively in the XIXth century. That growth resulted in the city's development and erecting buildings that up till today are true gems of the city's centre.

A few dozens of years ago the city centre part of Brda river was packed with barges like Lemara and one could see queues resembling those experienced on Canale Grande in Venice. Bydgoszcz river port was one of the most important ones on the Bydgoszcz Canal that was a part of the international water routes stretched between Berlin, Gdańsk, Bielarus and the cities of the south of Poland. There was a whole, unique culture of the people of the water developing in Bydgoszcz -  the culture of skippers, captains, skipper families whose members were born, lived and died on barges.

Whole caravans of barges dragged by powerful tugboats used to course the Bydgoszcz Canal. Lemara was one of those barges. It was built in 1937 in Lloyd's Shipyard And Workshops Inc. in Bydgoszcz. It was owner a Bydgoszcz skipper Adilf Schmidt. It was of the "Gross Finow-Masskahn" type, which in Polish was call  "Finówka" (A Finnie). The name "LEMARA" comes from the first letters of the owner's parents' names – Leon nad Maria. Schmidt lived on Lemara with his family. They sailed on Polish and German rivers. When the war came Lemara was repossessed by the Germans and when the war ended by the communist authorities. The legal owners became mere workers using their former possession in order to provide services to a communist state.

In 2006 a  decision was made to stop using Lemara as a commercial barge. It's destiny was to be scrapped. But in 2009 by the resolution of the City Council of Bydgoszcz it was decided to buy the barge back and transform it into a cultural site. After a long overhaul and remodeling Lemara was given into the custody of the Bydgoszcz Water Junction Brotherhood. In 2014 it was given under the custody of the City Centre of Culture in Bydgoszcz.
It was then that the final transformation of the barge into a living museum of the water and skipper tradition was performed. The interior was remodeled in order to resemble the living and working quarters of the Bydgoszcz skippers. The barge was open to public. It hosts monthly gatherings of the skipper families associations. Thanks to all of this a part of the forbidden "water history" of Bydgoszcz has returned to the city.

In July 2014 Lemara barge became a part of the post industrial sites trail marked by the EU project SHIFT-X.
Right now Lemara is a popular culture meetings site. There are concerts, theatre plays, workshops for children, exhibitions and author's meetings organized on the top deck. The up-to-date program can be found on the City Centre of Culture's web site ( www.mck-bydgoszcz.pl  ).


Technical data (courtesy of the Bydgoszcz Water Junction Brotherhood): Carrying capacity – 282 t.; length 43m; width 4.87m; board height 2.08m; displacement 1.88m;

Address:
Lemara Barge, Spichlerna 1 (the northern part of the Old City, the bank of Brda river, between Mostowa and Rybi Rynek), Bydgoszcz, Poland
More info:
www.mck-bydgoszcz.pl