One of the must-have photographs of one's stay in Bydgoszcz is a photo at the "Deluge" Fountain, which stands in Kazimierz Wielki Park, in the proximity of Wolności Square. This impressive fountain, made by Ferdinand Lepcke, was erected on this site in 1904, in the then garden of the Bydgoszcz District Government.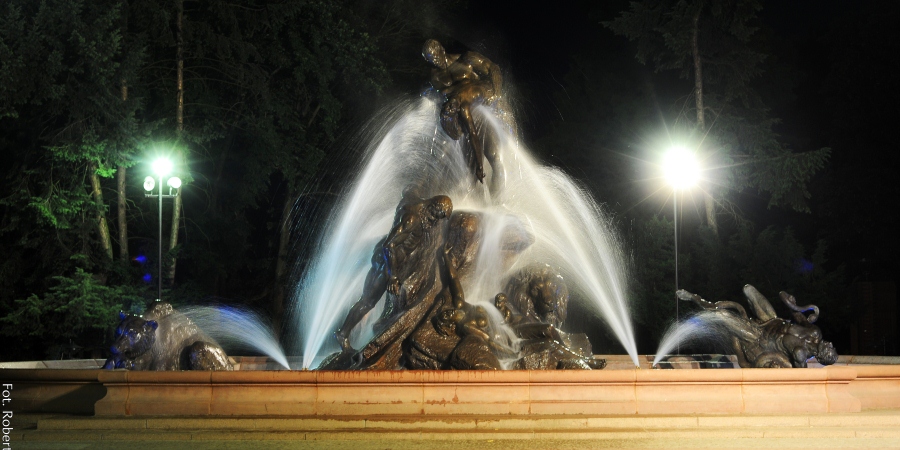 The artist placed a composition referring to the Biblical Deluge in a huge pool made from red sandstone. In the middle is a group of people rising to a height of 6 metres, featuring a muscular man holding a languid woman, and a second woman lying dead at his feet with a child clinging to her. There are additional statues on the sides; one of them depicts a man fighting for his life with a snake wrapped around him, while another features a mother bear with a dead cub. The unique effect of the monument is created by the surface surrounding the fountain, made as a multicolour, ornamental mosaic with a motif of waves.
This greatest work made by the artist had impressed spectators until 1943 as one of the biggest attractions of Bydgoszcz, and a popular site for taking photographs. Unfortunately, valuable sculptures were confiscated for war purposes. These days, thanks to the Social Committee for Rebuilding the Fountain established in 2004, the bronze, multi-figural statue has been faithfully restored. The rebuilt scene of the Biblical Deluge, placed in a renovated basin and surrounded by the restored mosaic, has once again become one of the most impressive and beautiful fountains in Poland.