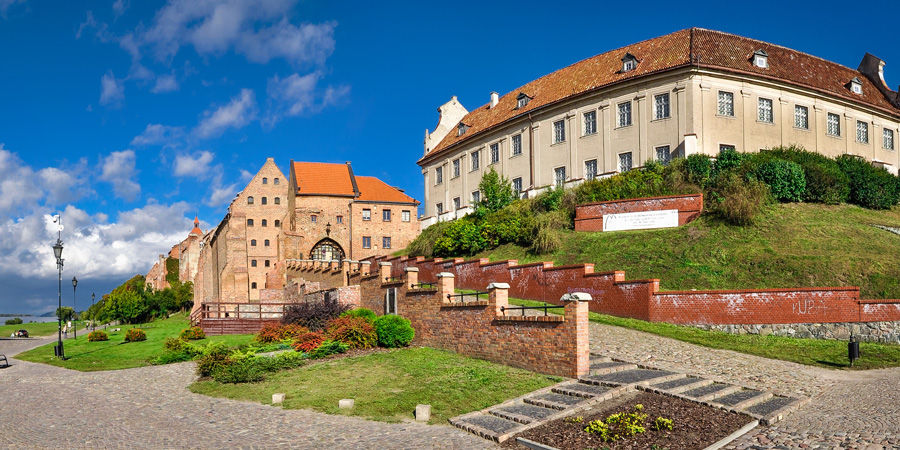 Grudziądz sits on the right bank of the River Vistula, in the northern part of Kujawsko-Pomorskie Voivodeship. The city is a natural "gateway" to the Tuchola Forest, Chełmno Land and the Iława Lake District.

The oldest historic sites of Grudziądz are its earliest brick buildings, erected during the reign of the Teutonic Knights, including the castle ruins, the Basilica of St Nicholas (1 Kościelna Street), and the city walls with the Water Gate (7 Wodna Street). A group of distinct, monumental granaries, creating a unique panoramic view across the Vistula, date back to the late Middle Ages. The turn of the 18th century is remembered in Grudziądz for three beautiful monasteries, namely the convent of the Benedictine nuns (3/5 Wodna Street), the monastery of the Order of the Reformati (10/22 Wybickiego Street) and the Jesuit monastery (1 Ratuszowa Street). During the partitions of Poland, Friedrich II of Prussia made the decision to build a citadel in Grudziądz. In a short period, a modern and the biggest fortress of Poland was constructed, featuring 5 bastions, 4 ravelins and 32 kilometres of underground galleries. The rapid growth of military craft and construction of a bridge over the Vistula led to expansion of the fortress in the late 19th century. Such forts as Mała and Wielka Księża Góra, Fort Nowa Wieś, Parski, Tarpno, Dąb, Gać, Lasek Miejski and Strzemięcin were erected at that time. This expansive development of the city fortification system "backfired" on Grudziądz during the liberation battles in winter 1945. Grudziądz was turned into a city-fortress, the object of battles between the German and Russian armies that continued for six weeks. In 1945, nearly three-quarters of the city was damaged. These days, almost all forts are open to the public. In addition, every Saturday between May and September as well as May 3 and November 11 the citadel, which is administered by the army, is open to visitors.
One of the attractions of Grudziądz is Europe's only graduation tower closed in a pyramid (Geotermia Grudziądz, 36 Warszawska Street, www.geotermiagrudziadz.pl). Thanks to air circulation in the closed system, concentration of healthful elements is so high that - according to balneology specialists - one hour of inhalation in the pyramid equals the daily absorption of iodine at the seaside.
An attraction for families with children is the Mega Park, a family entertainment park situated on Lake Rudnickie (Zielona Street). It comprises Fairy Tale Land, Jurassic Park, Flintstones' Land, a Zoo, and Safari. However, the most popular among the youngest visitors is the western city called Kansas City.

More information:
Tourist Information
Rynek 3-5, 86-300 Grudziądz
tel. 56 461 23 18
www.it.gdz.pl