Bydgoszcz Stand-up! Mieszko Minkiewicz & Jakub Poczęty!
Gdzie?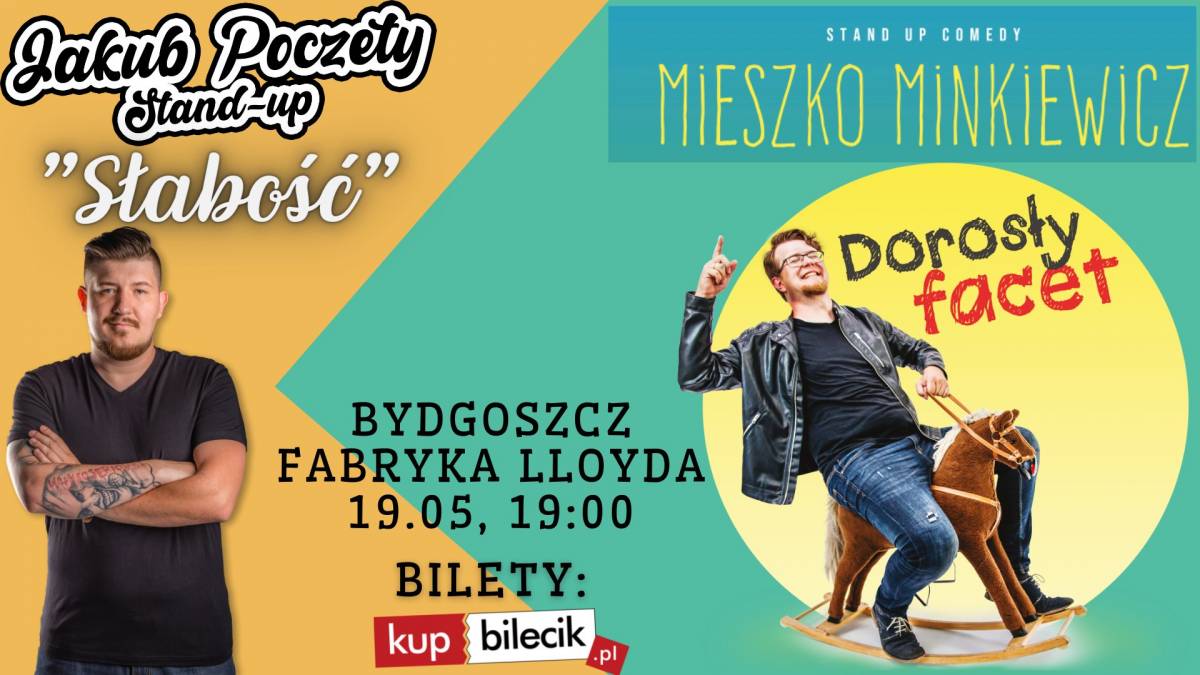 Informacje od Organizatora:
Zapraszamy na wieczór ze stand-upem!
Z najnowszymi programami wystąpią Mieszko Minkiewicz i Jakub Poczęty!
Cześć, jestem Mieszko. Mam 31 lat, chociaż w środku jestem młodszy. No, pomijając wątrobę, ona jest starsza. "Dorosły facet" to mój czwarty program stand-upowy. Jest jak fort z koców, albo domek na drzewie. Zamknięty klub dla pełnoletnich urwisów. Same dorosłe tematy. Czy lego można kupić na fakturę? Czy jest limit wieku na dmuchany zamek? Co zrobić z faktem, że jest się coraz bardziej podobnym do Bałtroczyka? Zapraszam do świata pierwszych siwych włosów, nagłych skórzanych kurtek i spóźnionych pomysłów na tatuaże. Dzieciom wstęp wzbroniony! Jeszcze przez chwilę…
Mieszko Minkiewicz - stand-uper polonista, majster słowa. Twórca trzech programów komediowych: "W związku z tym", "Hihilista" i "W międzyczasie". Występował w Comedy Central, roastował Friza, prowadzi też podcast popkulturalny "Ogólnie polecam". Bezpośredni, serdeczny i nie idzie z żartami na łatwiznę, przez co jego występy to gwarancja świetnej zabawy i dobrze spędzonego czasu.
Jakub Poczęty - Czujny obserwator, z mordeczką która idealnie wtapia się w tłum. Mógłby być stalkerem i męczyć ci siostrę, ale zamiast tego został komikiem, przygląda się światu i komentuje zabawnie co robimy źle jako ludzkość. Charakteryzuje go pewność siebie, energia, szukanie kontaktu z publicznością i pewien specyficzny sposób bycia, który nie dopuszcza do niego myśli, że to co ma na talerzu może mu wystarczyć. Występował w TVP, u Kuby Wojewódzkiego i w Comedy Central, ale twierdzi, że najgorsze nadal przed nim. W swoim najnowszym programie pt. "Słabość" Jakub opowiada o dziwnych pomysłach na tatuaże, podrzuconej przez cyganów siostrze i bliskiej, czasem zbyt bliskiej, relacji z rodzicami.
*Wydarzenie odbywa się w reżimie sanitarnym, prosimy o zabranie ze sobą środków ochrony osobistej obowiązujących w dniu wydarzenia.
*Podczas występu obowiązuje zakaz nagrywania audio oraz video.
*Osoby przeszkadzające mogą zostać wyproszone bez możliwości zwrotu biletów.
*Występ przeznaczony jest dla osób dorosłych.
*Nie ma konieczności drukowania biletów, mogą one zostać przedstawione w formie elektronicznej.
*Bilety dla osób z certyfikatem szczepienia COVID-19 są dostępne wyłącznie dla osób, które posiadają ważny certyfikat szczepienia, który należy okazać przy wejściu na wydarzenie.
____________________
Kalendarz wydarzeń odbywających się w Bydgoszczy miej zawsze pod ręką dzięki aplikacji mobilnej (Android i iOS).
______________________
Informacje o wydarzeniach przesyłajcie na adres wydarzenia@visitbydgoszcz.pl
______________________
Bydgoskie Centrum Informacji nie ponosi odpowiedzialności za jakiekolwiek zmiany miejsc, godzin i dat wydarzeń.