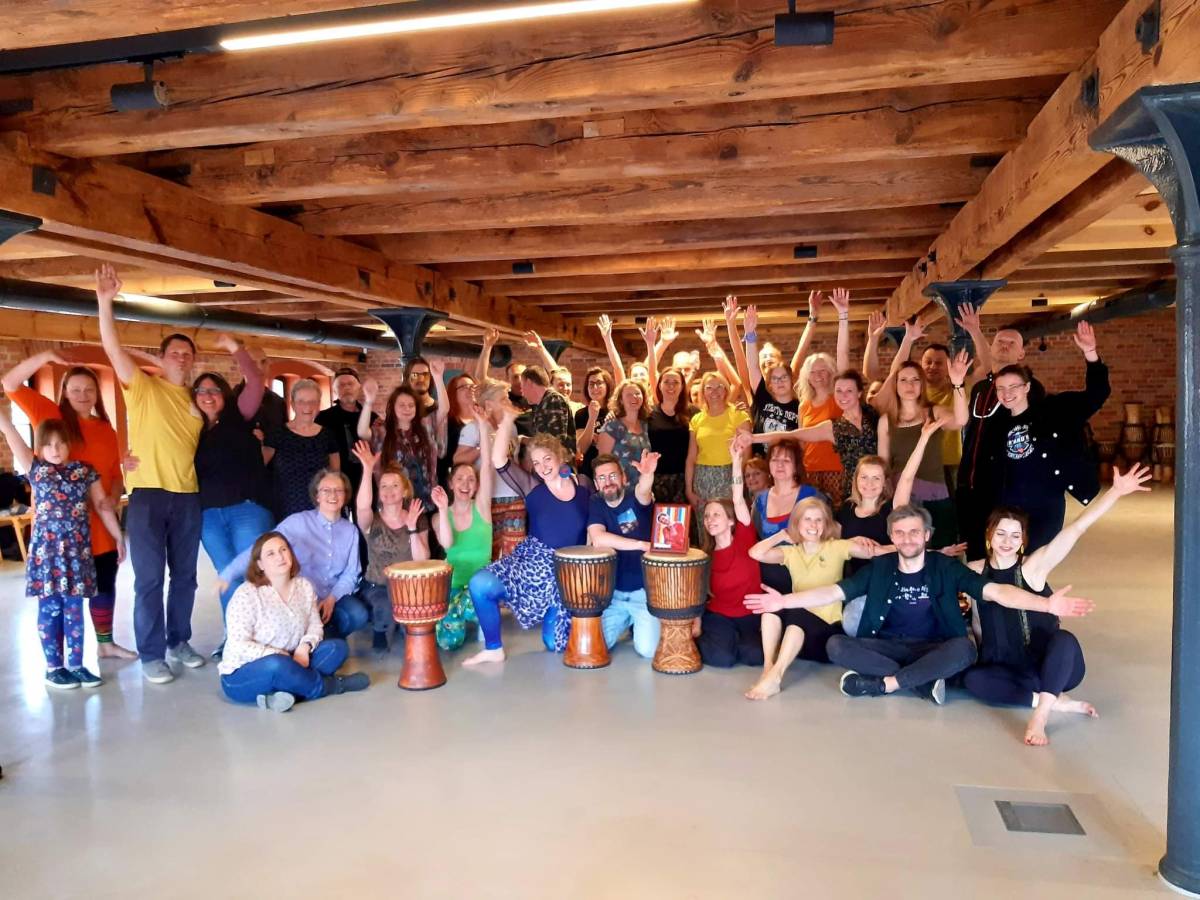 Informacje od Organizatora:
Zapraszamy na niezwykle żywiołowe i pobudzające do życia zajęcia z Afrodance!
Nigdy nie tańczyłeś AFRO? Przyjdź, spróbuj! Kochasz AFRO od dawna? Przyjdź, podziel się!
ZAJĘCIA SĄ DARMOWE!!
To niezwykła szansa, by poznać i pokochać tę piękną, radosną formę ruchu.
Muzyka na żywo razem z naszymi kochanymi bębniarzami z Djembe Warrior City Bydgoszcz
POZIOM OTWARTY - odpowiedni również dla początkujących.
CO SIĘ DZIEJE NA TAKICH ZAJĘCIACH?
Zaczynamy krótką rozgrzewką - budzimy ciało, nabieramy energii, potem parę ogólnorozwojowych kroków - ćwiczymy koordynację, poznajemy podstawy ruchu w AFRODANCE, w końcu zgrabna choreografia - uczymy się pięknego tańca w prostej choreografii i tańczymy całą mocą!!! Na końcu, przy spokojnych, kojących dźwiękach - relaksujemy kochane ciałka, gruntujemy energię.
Tańczymy na boso, by ciało miękko nam się układało i na kolorowo, by obdarować się nawzajem i cieszyć radością
Zajęcia z Afrodance to świetna zabawa, ale też ciekawa przygoda z folklorem Afryki i własnym ciałem.
Zajęcia trwają 90min, od 13.00-14.30, Młyny Rothera, Wejście od ul. Mennica 10. Sala na III piętrze.
Obowiązują zapisy: afrodancehanna@gmail.com
Przed zajęciami tanecznymi jest fantastyczna okazja, by zapoznać się z rytmami afrykańskimi oraz instrumentem Djembe. @Piotr Schutta wraz z @Djembe Warrior City Bydgoszcz poprowadzi warsztaty bębniarskie (instrumenty zapewnione).
Poziom: podstawowy. Obowiązują zapisy: szucik10@gmail.com
link do zajęć djembe:
https://www.facebook.com/events/2146040538892960?ref=newsfeed
Współpraca Fundacja Kultury Pozytywka.
O Hani
Energetyczna, serdeczna i angażująca.
Zakochana w tradycyjnych tańcach Afryki Zachodniej od ponad dekady. Wielokrotnie odwiedziła Afrykę Zachodnią w poszukiwaniu mistrzów, od których uczyła się zarówno w Afryce jak i w Wielkiej Brytanii.
Jej styl charakteryzuje się dokładnością ruchu, uczuciowością, kobiecością. Promuje radość w tańcu oraz akceptację własnego ciała, pracę nad kondycją i pewnością siebie.
Gra na balafonie i bębnach dundun. Podróżniczka, magister turystyki, pasjonatka wielokulturowości. Lubi tłumaczyć filmy, pomaga radzić sobie ze stresem.
____________________
Kalendarz wydarzeń odbywających się w Bydgoszczy miej zawsze pod ręką dzięki aplikacji mobilnej (Android i iOS).
______________________
Informacje o wydarzeniach przesyłajcie na adres wydarzenia@visitbydgoszcz.pl
______________________
Bydgoskie Centrum Informacji nie ponosi odpowiedzialności za jakiekolwiek zmiany miejsc, godzin i dat wydarzeń.