Bracia Figo Fagot & Cjalis & FIGO i Samogony
Gdzie?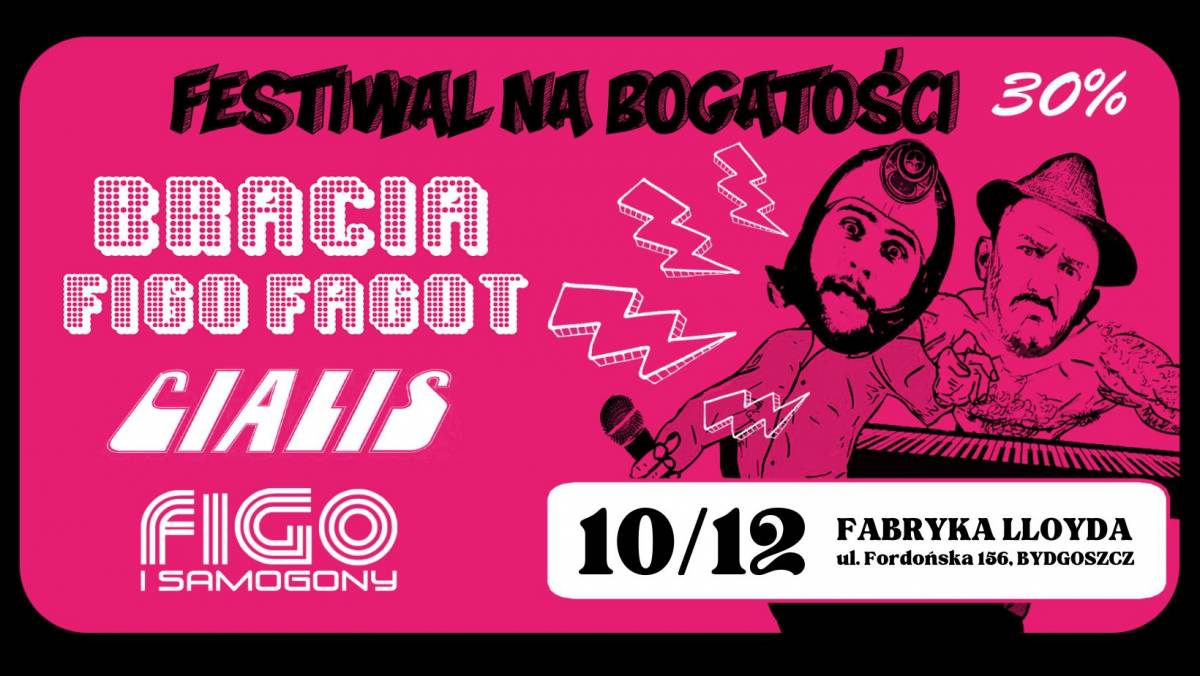 Informacje od Organizatora:
Już 10 grudnia zapraszamy Was na koncert niekwestionowanych królow pastiszu disco-polo!
Pozwólcie ponieść się ich melancholijnym bitom i tanecznej euforii..
Start 18:00
Koncert 20:00
Bilety: I pula 89zł, II pula 109 zł, III pula 129 zł
https://goingapp.pl/.../bracia-figo-fagot.../grudzien-2022 oraz na
https://bkb.pl/80285-7a5e2
Zespół Bracia Figo Fagot został założony we wrześniu 2010 roku, na potrzeby serialu Kaliber 200 Volt, emitowanego w jednej z telewizji muzycznych i jest realną kontynuacją serialowych postaci tworzących wysmakowane disco polo z elementami humorystycznej ironii. Tworzą go "Figo - Fabian Barłoś", czyli Piotr Połać (wokal, teksty) oraz "Fagot - Szymon Filip Barłoś", czyli Bartosz Walaszek (keyboard, wokal, teksty).
Bracia Figo Fagot mają na koncie sześć albumów studyjnych, spośród których pięć pokryło się złotem. Najnowszy krążek BFF, zatytułowany "Miliony internautów mogą się mylić", ukazał się nakładem S.P. Records w grudniu 2020. Płytę promowały utwory "Karolino (KOCHAM CIĘ)" oraz "Nie zaufam nigdy już". Na krążku nie zabrakło także hitów, które doczekały się milionów wyświetleń na YouTube - "Wędkarza miłości", "Pakistańskiego chłopca" czy "Ugi Boogie". Do współpracy nad albumem Figo i Fagot zaprosili znanych producentów - Sir Micha oraz Andrzeja Izdebskiego.
Cjalis to postać znana z serialu "Blok Ekipa", za którą stoi Bartosz Walaszek – muzyk, filmowiec i współtwórca formacji Figo-Fagot. W tym wcieleniu artysta wykonuje utwory utrzymane w klimacie elektro punk. Ma na swoim koncie takie hity jak "Autodancing", "Królowa Dzielni" czy "Ciuralla". Odtwórcą roli i kompozytorem piosenek Cjalisa jest Bartosz Walaszek, a kreacja charyzmatycznej postaci została pierwotnie stworzona na potrzeby popularnego serialu "Blok Ekipa". Piosenki Cjalisa biją rekordy popularności na portalu YouTube. Przykładem może być m.in. teledysk do utworu "Autodancing" (2,9 mln wyświetleń), "Melanż u Dzikiego" (3,3 mln wyświetleń), "Królowa Dzielni" (5,2 mln wyświetleń) czy "Ciuralla" (8,7 mln wyświetleń).
Figo i Samogony to Piotr Połać z zespołem, znany jako połowa duetu Bracia Figo Fagot, ale też muzyk kapel Speculum, Darmozjady i Proces. Z Samogonami współpracuje Andrzej Izdebski, producent m. in. Ralpha Kamińskiego, Kazika Staszewskiego i Braci Figo Fagot. Formacja Figo i Samogony to spin-off wg pomysłu młodszego Brata, Fabiana "Figo" Barłosia, w którego postać wcielał się w zespole Bracia Figo Fagot Piotr Połać. Występ będzie romantyczną odsłoną szalonego disco-elektro, inspirowanego m. in. Papa Dance i nie tylko.
Czas na miłosne uderzenie i miejskie disco w rytmie polo!
______________________
Kalendarz wydarzeń odbywających się w Bydgoszczy miej zawsze pod ręką dzięki aplikacji mobilnej (Android i iOS).
______________________
Informacje o wydarzeniach przesyłajcie na adres wydarzenia@visitbydgoszcz.pl
______________________
Bydgoskie Centrum Informacji nie ponosi odpowiedzialności za jakiekolwiek zmiany miejsc, godzin i dat wydarzeń.