Hard Dog Race Base Polska - bieg z przeszkodami z psem
Gdzie?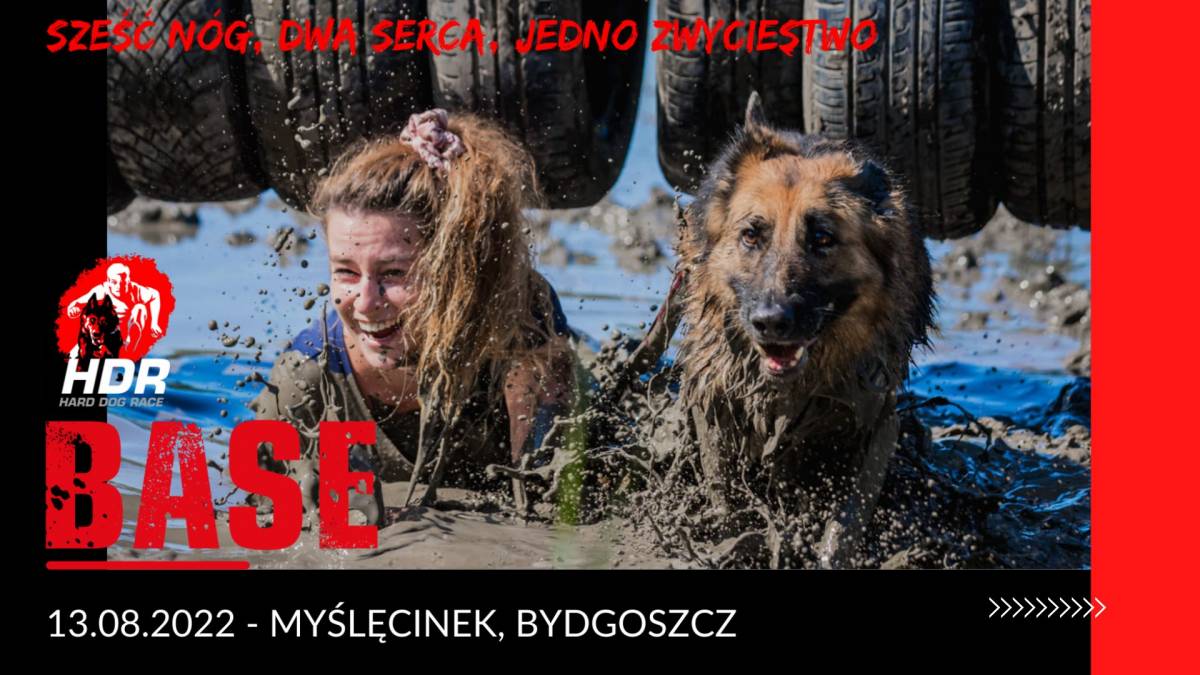 Informacje od Organizatora:
HARD DOG RACE BASE POLSKA
13 SIERPNIA 2022 – MYŚLĘCINEK, BYDGOSZCZ
Znasz już zawody HDR?
A może właśnie się do nich przygotowujesz?
Wiemy jakie to uczucie, kiedy nogi i łapy są w jednym ruchu, serca biją razem i wspólnie się cieszymy! Chcielibyśmy, aby jak najwięcej ludzi doznało tego uczucia!
Jeżeli lubisz dobre wyzwania i bieganie, a także jesteś miłośnikiem psów, to jest to wydarzenie dla Ciebie; bądź na linii startu zawodów HDR Base (6 km, 16 przeszkód), które odbędą się na terenie Leśnego Parku Kultury i Wypoczynku
Myślęcinek w Bydgoszczy w sobotę 13 sierpnia 2022!
O CZYM WARTO WIEDZIEĆ?
DYSTANS: +/- 6 km
PRZESZKODY: 16
WIEK ZAWODNIKA: 14+
WIEK PSA: 1+
BRAK LIMITU CZASU - trasę pokonujesz w swoim tempie!
KARNE PRZYSIADY - jeżeli Ty lub Twój pies nie możecie pokonać jakiejś przeszkody, wystarczy wykonać karne przysiady i można kontynuować bieg.
W zawodach można wziąć udział:
INDYWIDUALNIE
3IN1 - 2 osoby + 1 pies
DRUŻYNOWO - 6 osób + minimum 4 psy.
W zawodach HDR pies może brać udział JEDYNIE W SZELKACH! Szelki mogą być przypięte do smyczy lub pasa do biegania.
NASI CZWORONOŻNI ZAWODNICY MUSZĄ MIEĆ OBOWIĄZKOWE, WAŻNE SZCZEPIENIA (wścieklizna, DHPPi i Leptospiroza)! Szczepienia muszą być wpisane w książeczkę lub paszport psa przez lekarza weterynarii.
????Pies powinien być również ODROBACZONY między 13 maja a 6 sierpnia. Adnotacji o odrobaczeniu można dokonać samodzielnie.
Zapoznaj się ze wszystkimi dokumentami i koniecznie przeczytaj Regulamin zawodów.
ZGŁOSZENIA: https://pl.entry.harddog.run/login
REGULAMIN: https://harddograce.pl/regulamin-zawodow/
OGÓLNE WARUNKI UMOWY: https://harddograce.pl/do-korzystania-z-modulu.../
OPŁATY WSTĘPU: https://harddograce.pl/.../application-fee-hdr-base-2...
W trakcie HDR, nie tylko będziesz konkurować z czasem; będziesz musiał pokonać przeszkody, czasem upór psa, a nawet swoje słabości. Będziecie zmęczeni, pokryci błotem aż po uszy. Ale na końcu, kiedy przekroczycie linię mety, poczujecie szczęście i dumę – dumę z siebie i psa: twardego duetu. SZEŚĆ NÓG, DWA SERCA, JEDNO ZWYCIĘSTWO!
Nie zapomnij o Bitwie między Alfami. Czy myślisz, że jesteś Alfą? Udowodnij to! Zgłoś się na wyścigi (fale) o godzinie 9:00 i 9:15, jeśli naprawdę chcesz osiągnąć jak najlepszy czas. Możesz zgłaszać się w zespole, w opcji 3in1 lub jako indywidualny uczestnik. Pośpiesz się, bo tylko 88 twardzieli może wziąć udział w tej bitwie.
PRZED ZGŁOSZENIEM WARTO ZAPOZNAĆ SIĘ Z NAJCZĘŚCIEJ ZADAWANYMI PYTANIAMI!
Więcej informacji na temat Hard Dog Race można znaleźć na stronie http://harddograce.pl.
Jeśli masz jakieś pytania lub uwagi, prosimy o kontakt pod adresem e-mail: infopl@harddograce.pl.
____________________
Kalendarz wydarzeń odbywających się w Bydgoszczy miej zawsze pod ręką dzięki aplikacji mobilnej (Android i iOS).
______________________
Informacje o wydarzeniach przesyłajcie na adres wydarzenia@visitbydgoszcz.pl
______________________
Bydgoskie Centrum Informacji nie ponosi odpowiedzialności za jakiekolwiek zmiany miejsc, godzin i dat wydarzeń.