Grażyna Łobaszewska - 50 lat na scenie. Gościnnie: M.Koteluk, S.Soyka i inni
Gdzie?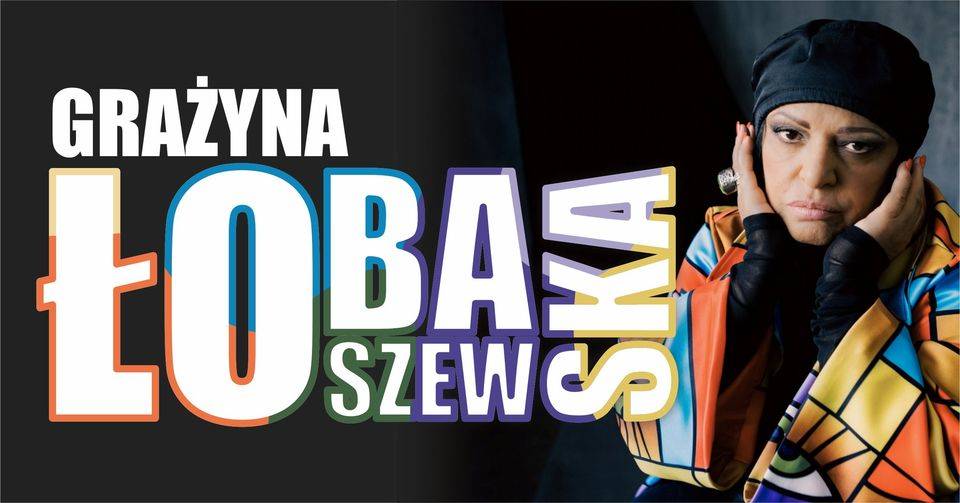 Grażyna Łobaszewska – 50 lat na scenie
Grażyna Łobaszewska słynie z takich hitów jak "Czas nas uczy pogody", "Brzydcy" czy "Ludzie z duszą". W 2022 roku wybitna wokalistka świętuje 50-lecie działalności!
Artystka od lat zachwyca publiczność. Wykonuje piosenki napisane specjalnie dla niej przez najwybitniejszych polskich kompozytorów muzyki rozrywkowej, ale także jej własne interpretacje standardów jazzowych i muzyki gospel.
Jeśli szukasz w muzyce piękna, prawdy i kunsztu wykonawczego, to znajdziesz je podczas wyjątkowych koncertów jubileuszowych artystki. Nie zabraknie pięknych polskich piosenek Czesława Niemena, Andrzeja Zauchy, Marka Grechuty czy Grzegorza Ciechowskiego.
Podczas koncertów Grażynie Łobaszewskiej towarzyszyć będzie zespół Ajagore, a także niezwykli goście. Na scenie zobaczymy m.in. Melę Koteluk, Adama Nowaka, Stanisława Soykę czy Kubę Badacha.
Połączenie jednego z najwybitniejszych głosów i charyzmy z doskonałym repertuarem w odświeżonych aranżacjach stanowi gwarancję niezapomnianych przeżyć i wzruszeń na najwyższym artystycznym poziomie. Sprawdź aktualny repertuar koncertów w 2022 i zarezerwuj bilety!
Goście występujący na trasie koncertowej:
Bydgoszcz: Mela Koteluk, Stanisław Soyka, Kuba Badach
Szczecin: Mela Koteluk, Adam Nowak, Stanisław Soyka
Łódź: Mela Koteluk, Adam Nowak, Stanisław Soyka
To wydarzenie zostało utworzone przez portal https://biletyna.pl - w razie pytań prosimy o kontakt: @biletyna.pl lub fb-inquiry@biletyna.pl
This event has been created by https://biletyna.pl - in case of questions please contact us: @biletyna.pl or fb-inquiry@biletyna.pl
______________________
Kalendarz wydarzeń odbywających się w Bydgoszczy miej zawsze pod ręką dzięki aplikacji mobilnej (Android i iOS).
______________________
Informacje o wydarzeniach przesyłajcie na adres wydarzenia@visitbydgoszcz.pl
______________________
Bydgoskie Centrum Informacji nie ponosi odpowiedzialności za jakiekolwiek zmiany miejsc, godzin i dat wydarzeń.