Zielono mi! Wiosenny jarmark pełen roślin
Gdzie?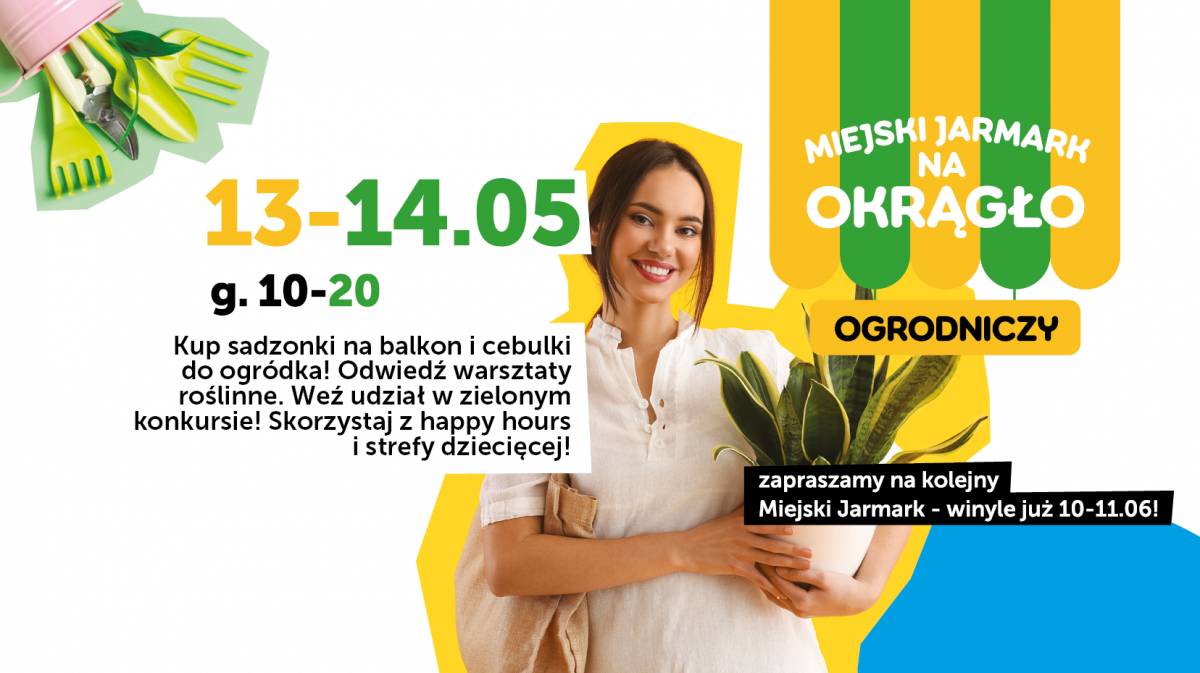 Informacje od Organizatora:
Wraz z majowym ociepleniem zazieleniło się wszystko – nawet kolejny jarmark w Centrum Rondo!
Już w piątek i sobotę 13 – 14 maja zapraszamy Was na zielony jarmark pełen roślin.
Bez względu na to, czy jesteś posiadaczem ukwieconego balkonu, dużego ogrodu, czy też uwielbiasz mieć w domu mnóstwo roślin doniczkowych – znajdziesz tu wszystko, czego zapragniesz!
Zabierz ze sobą na jarmark dzieci, a z całą pewnością nie będą się nudzić! Czeka na nich plac zabaw z mnóstwem atrakcji..
Targi roślinne to idealny moment, by dokupić nowe rośliny do swojej kolekcji, poznać sekrety ich pielęgnacji i złapać nowe, zielone inspiracje. Twój ulubiony kwiat ma uschnięte liście, nie kwitnie i marnie wygląda? Teraz możesz zabrać swoją roślinę na jarmark, a nasi eksperci podpowiedzą, jak o nią zadbać, by pięknie rosła i cieszyła oczy.
Każdy kto chce się dokształcić z uprawy roślin, będzie mógł skorzystać z porad ogrodnictwa. Skorzystaj z szansy, poznaj techniki profesjonalistów i zostań mistrzem w dziedzinie pielęgnacji ogrodu! Natomiast dla osób, które pragną nauczyć się artystycznego układania kwiatów, przygotowaliśmy Akademię Ikebany. Naucz się tworzyć niezwykłe kompozycje z kwiatów, które zachwycą każdego i staną się doskonałą ozdobą domu. Zachęcamy do zapisów na warsztaty przy stoisku Ikebany, Akademia startuje zawsze o pełnych godzinach.
A to jeszcze nie wszystko!
Zobacz pokazy florystyczne
Chcesz poznać tricki florystów tworzących piękne bukiety? Podejrzyj ich podczas pracy i przekonaj się, że to pasja dla każdego. Pokazy florystyczne odbywają się w przerwie między warsztatami.
Zrelaksuj się wśród roślin
Spróbuj odpoczynku wśród zieleni! Odkryj siłę płynącą prosto z natury i zregeneruj się na wiosnę.
Weź udział w KONKURSIE na najpiękniejszy ogród lub balkon!
Odbędzie się on na naszej stronie na Facebooku. Pochwal się swoim zielonym balkonem lub ukwieconym ogrodem, a być może to właśnie Twoje zdjęcie pojawi się w Centrum Rondo!
Daj się ponieść wiosennej, zielonej fali i zanurz się w świat roślin na naszym jarmarku!
____________________
Kalendarz wydarzeń odbywających się w Bydgoszczy miej zawsze pod ręką dzięki aplikacji mobilnej (Android i iOS).
______________________
Informacje o wydarzeniach przesyłajcie na adres wydarzenia@visitbydgoszcz.pl
______________________
Bydgoskie Centrum Informacji nie ponosi odpowiedzialności za jakiekolwiek zmiany miejsc, godzin i dat wydarzeń.