Piknik dobrych psów i ludzi
Gdzie?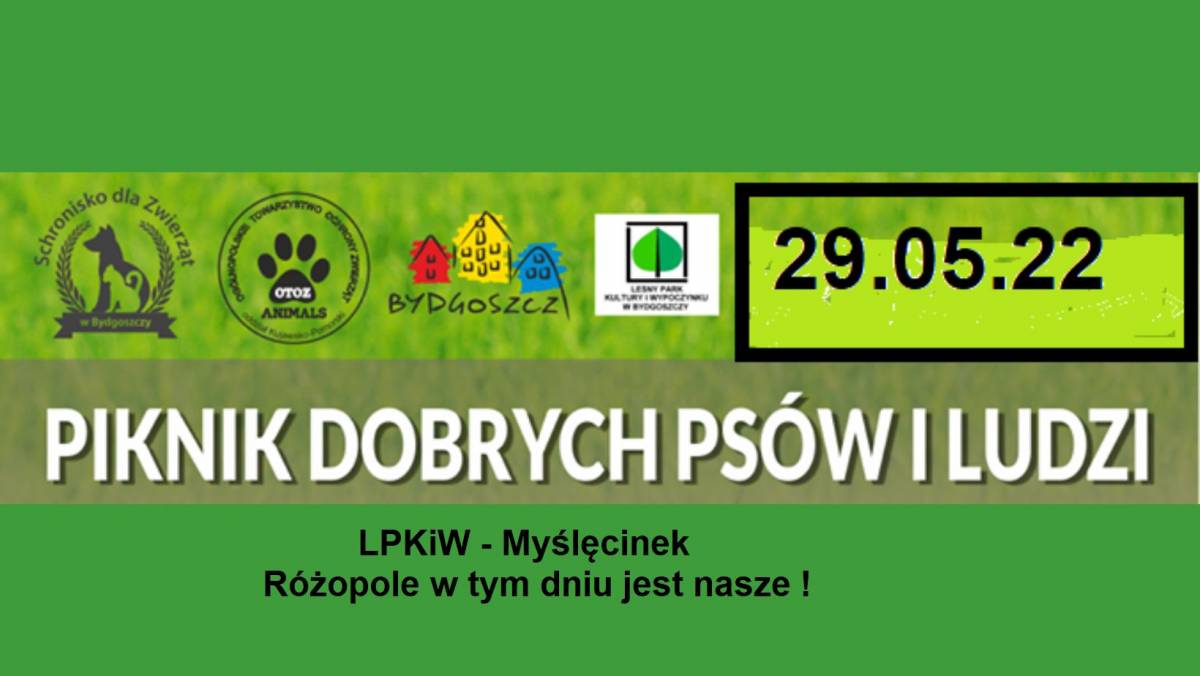 Informacje od Organizatora:
To piknik organizowany przez Schronisko dla Zwierząt w Bydgoszczy, (przy wsparciu OTOZ Animals, O. Kujawsko Pomorski) dla właścicieli psów adoptowanych z bydgoskiego Schroniska (lub innych schronisk w kraju) oraz dla piesków, które jeszcze CZEKAJĄ NA NOWY DOM I KOCHAJĄCEGO WŁAŚCICIELA W SCHRONISKU.
Chcemy by Państwo wespół z adoptowanymi i czekającymi na adopcję psami mogli cieszyć się otoczeniem naszego wspaniałego Leśnego Parku Kultury i Wypoczynku w Myślęcinku.
Zarząd Parku specjalnie zarezerwował dla nas na ten dzień wspaniałe miejsce - Różopole.
Pozostaje zabrać pieski i pojawić się z koszykiem piknikowym oraz kocykiem na miejscu, 29 maja 2022 r. o godzinie 10.00.
INFO:
Miejsce: Różopole w LPKiW
29 maja 2022 r.
Czas: 10.00-15.00
Zaproszeni;
spacerowicze i wolontariusze z naszymi, schroniskowymi psami
właściciele psów adoptowanych ze swoimi pieskami (na smyczach).
Kochający zwierzęta. A szczególnie nasi SPACEROWICZE !!!
Planujemy:
Prezentację psów schroniskowych z elementami pokazu TEAMU "LIRA" - Pozytywnego Szkolenia Psów Schroniskowych
Porady Behawiorysty - Aleksandra Gabara
Pokaz wozu strażackiego Ochotniczej Straży Pożarnej OSIELSKO
Darmowe pomiary ciśnienia krwi
Pokaz resuscytacji przy użyciu fantomu. Nauka resuscytacji.
Rozmowy, zabawy.
Prosimy o niezabieranie na piknik psów agresywnych, zagrażających bezpieczeństwu pozostałych uczestników pikniku. Prosimy o nie trzymanie psów na kolczatkach i obrożach dławiących... Bo co to za dobrzy ludzie, którzy tak traktują czworonożnych przyjaciół...?
Jedzenie piknikowe należy zabezpieczyć w zamykanych koszach piknikowych.
Należy zabrać ze sobą aktualny dowód szczepienia psa przeciw wściekliźnie i torebki do sprzątania psich odchodów.
____________________
Kalendarz wydarzeń odbywających się w Bydgoszczy miej zawsze pod ręką dzięki aplikacji mobilnej (Android i iOS).
______________________
Informacje o wydarzeniach przesyłajcie na adres wydarzenia@visitbydgoszcz.pl
______________________
Bydgoskie Centrum Informacji nie ponosi odpowiedzialności za jakiekolwiek zmiany miejsc, godzin i dat wydarzeń.