Wystawa "Niech żyje Pippi!"
Gdzie?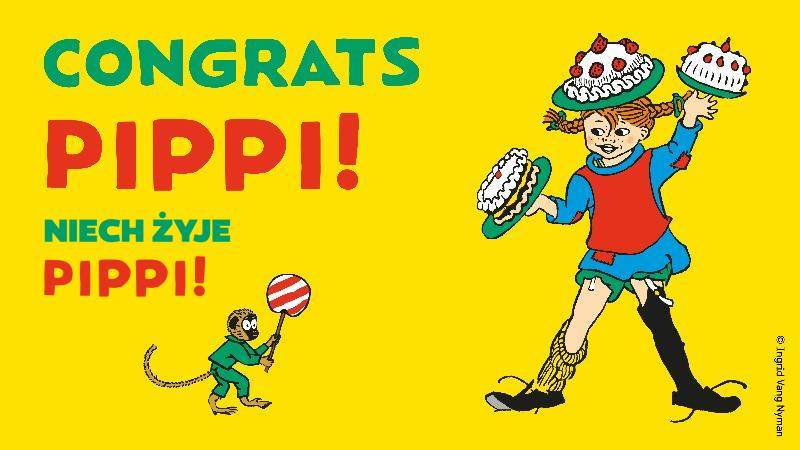 Informacje od Organizatora:
Pippi Pończoszanka. W ciągu siedemdziesięciu pięciu lat podbiła świat. Bawiąc, zaskakując, zmuszając do refleksji, prowokując. Kochają ją dzieci, a dorośli cenią jej niezależność od autorytetów i widzą w niej symbol wolności. Pippi wciąż jest tak aktualna jak wtedy, gdy Astrid Lindgren pisała pierwszą książkę o jej przygodach, a świat pogrążony był w wojnie. Również dziś Pippi ma do odegrania ważną rolę – jako wytwór dziecięcej wyobraźni, rebeliantka, poszukiwaczka przygód i najlepsza przyjaciółka. Niech żyje Pippi Pończoszanka!
Wystawa poświęcona postaci Pippi Pończoszanki z okazji jej 75. urodzin została przygotowana przez Astrid Lindgren Company, Instytut Szwedzki i Ambasadę Szwecji w Polsce.
Fundacja 12 Kamienica i marka TuCzyTam.
Kamienica 12 mają przyjemność i zaszczyt przedstawić wystawę bydgoszczanom.
Pippi inspiruje i bawi, dlatego otwarcie wystawy połączymy z warsztatami i "przytupem" (za dużym butem, oczywiście jak na rudowłosą bohaterkę przystało).
Na imprezę otwarcia zapraszamy już dziś, o kolejnych atrakcjach napiszemy niebawem. Będą to atrakcje dla dzieci i dorosłych ( w tym pedagogów i psychologów), dla dużych i małych. Dla dziewczynek i chłopców, dla kobiet i mężczyzn. Dla tych którzy zdają sobie sprawę z faktu, ile postać Pippi wniosła w życie kolejnych pokoleń i tych, którzy nie mają o tym pojęcia, ale kochają bohaterkę Astrid Lindgren.
Zapisy na otwarcie wystawy i towarzyszące mu warsztaty, email: tuczytam@op.pl, w temacie wpisujcie "PIPPI.OTWARCIE"
Wstęp wolny, liczba miejsc ograniczona.
KONKURS:
Zachęcamy dzieci (powyżej czwartego roku życia) do wzięcia udziału w konkursie na kreatywny, stworzony mieszanymi technikami, chętnie przestrzenny, wizerunek, portret, Pippi . Pamiętajcie, że Pończoszanka była Poszukiwaczką Rzeczy. Może Was to zainspiruje?
Zdjęcia, lub filmy, z prezentacją pracy, należy wysłać do 7 września, na adres: tuczytam@op.pl, w temacie wpisując "Konkurs", (w treści podać nr telefonu rodzica i wiek dziecka) i czekać na wiadomość zwrotną z informacją, gdzie i kiedy należy przekazać oryginał pracy. Rozstrzygnięcie konkursu nastąpi w dniu wernisaży wystawy.
Warsztaty i wystawa są możliwe dzięki finansowemu wsparciu Urzędu Miasta Bydgoszczy. Są częścią projektu pn. "Bydgoszcz czyta, Bydgoszcz tworzy.
Z TuCzyTam książki znam. Cykl interdyscyplinarnych spotkań z najlepszymi książkami dla dzieci i młodzieży", realizowanego przez Fundację 12 Kamienica.
______________________
Kalendarz wydarzeń odbywających się w Bydgoszczy miej zawsze pod ręką dzięki aplikacji mobilnej (Android i iOS).
______________________
Informacje o wydarzeniach przesyłajcie na adres wydarzenia@visitbydgoszcz.pl
______________________
Bydgoskie Centrum Informacji nie ponosi odpowiedzialności za jakiekolwiek zmiany miejsc, godzin i dat wydarzeń.