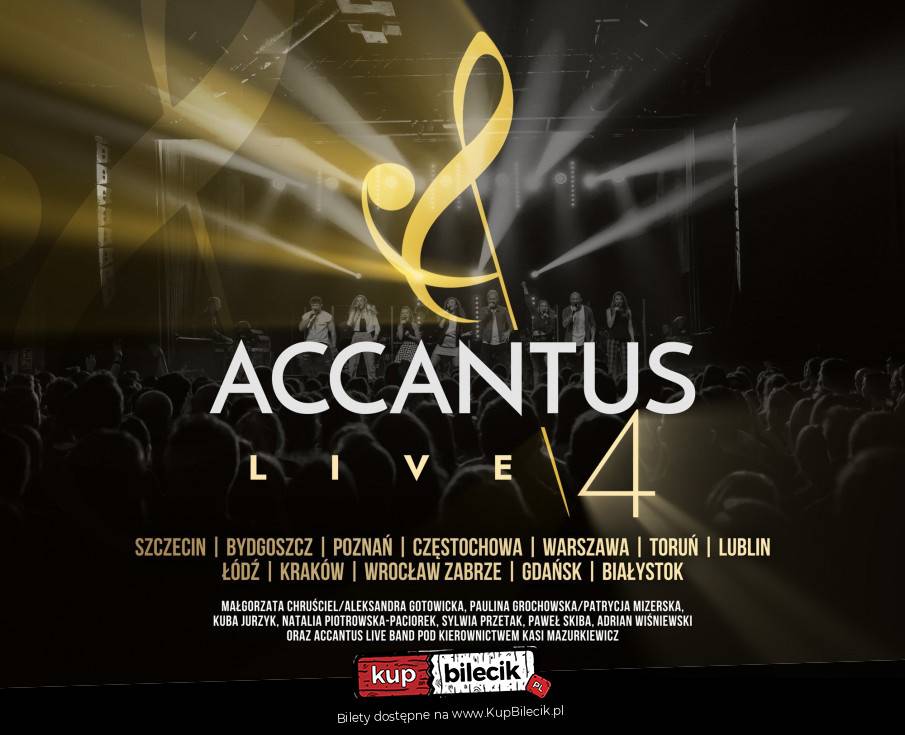 Informacje od Organizatora:
Król Lew. Hamilton. SIX. Dear Evan Hansen. Upiór w operze. Kraina lodu. Król rozrywki. Jeśli chcecie usłyszeć utwory z tych i wielu innych musicali na żywo, w wykonaniu zespołu fantastycznych solistów Studia Accantus, koniecznie musicie wybrać się na to wydarzenie. Gwarantowane muzyczne niespodzianki zarówno dla nowych widzów, jak i dla zagorzałych fanów! Przy okazji trasy Accantus Live 4 ulegnie nieco zmianie formuła koncertów. W każdym z miast będących częścią trasy pojawi się ośmioro solistów Studia Accantus znanych z YouTube'a, w tym jeden gość niespodzianka, który ujawniony będzie na 2 tygodnie przed każdym koncertem. Wystąpią: Małgorzata Chruściel/Aleksandra Gotowicka, Paulina Grochowska/Patrycja Mizerska, Kuba Jurzyk, Natalia Piotrowska-Paciorek, Sylwia Przetak, Paweł Skiba, Adrian Wiśniewski oraz (w jednym z utworów) wspomniany gość niespodzianka. Usłyszycie repertuar, który składa się z piosenek wykonywanych przez Studio Accantus już wcześniej na koncertach oraz takich, które zdobyły dużą popularność w ciągu ostatnich dwóch lat.
Niezmiennie za warstwę muzyczną odpowiadać będzie stworzony zgodnie ze współczesnymi standardami obowiązującymi na Broadwayu i na West Endzie "Accantus Live Band" pod kierownictwem Kasi Mazurkiewicz, złożony z 8 muzyków sesyjnych i orkiestrowych:
perkusja - Artur Rapacz
bas - Artur Siejka
gitara 1 - Michał Chwała
gitara 2 - Tomek Boruch
skrzypce 1 - Paulina Kusa/ Ala Baranowska
skrzypce 2 - Weronika Wyka
wiolonczela - Krysia Wiśniewska/ Karol Wachnik
piano - Kasia Mazurkiewicz
A wszystko to okraszone konferansjerką reżysera Studia Accantus oraz całego wydarzenia - Bartka Kozielskiego. Zapraszamy!
Czas trwania koncertu: około 2,5 godziny z przerwą.
Organizator: firma SONO.
______________________
Kalendarz wydarzeń odbywających się w Bydgoszczy miej zawsze pod ręką dzięki aplikacji mobilnej (Android i iOS).
______________________
Informacje o wydarzeniach przesyłajcie na adres wydarzenia@visitbydgoszcz.pl
______________________
Bydgoskie Centrum Informacji nie ponosi odpowiedzialności za jakiekolwiek zmiany miejsc, godzin i dat wydarzeń.