20 BYDGOSZCZ JAZZ FESTIVAL - New Jazz - Myrczek&Tomaszewski; The best of... Eljazz Big - Band
Gdzie?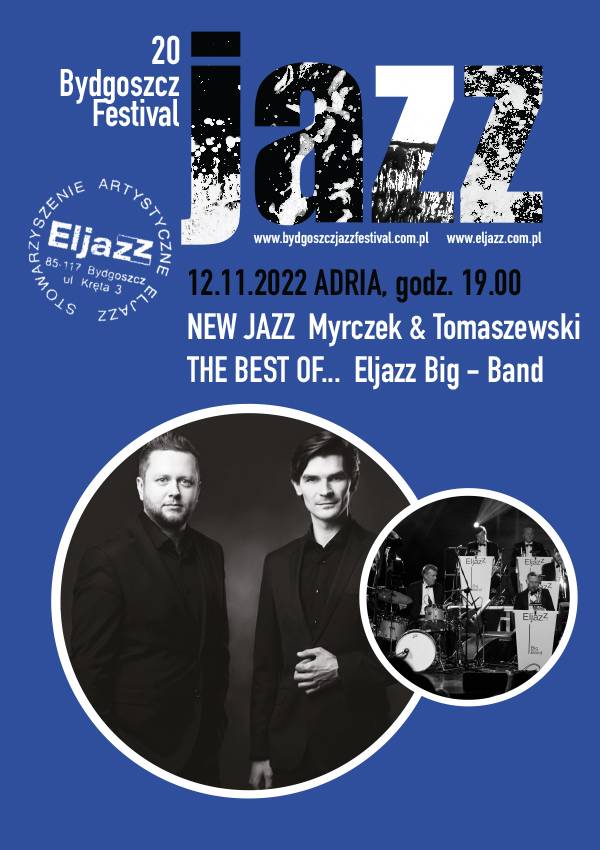 Informacje od Organizatora:
Eljazz Big - Band od ponad dwóch dekad koncertuje i nagrywa płyty z repertuarem własnym, inspirowanym twórczością polskich i zagranicznych kompozytorów. Ma na swoim koncie wydawnictwa płytowe takie jak: "Wspomnienia" z piosenkami okresu lat międzywojennych, "Kolędy i Pastorałki", "After the Catastrophe" z kompozycjami Krzysztofa Komedy, "Sacred Concert" z utworami Duke Ellington'a, "Polish Songs" z najpiękniejszymi polskimi utworami z różnych dekad z udziałem amerykańskich solistów: Karen Edwards i Stanley Breckenridge. Najważniejszym dokonaniem artystycznym orkiestry, w którym udział wzięli wybitni aranżerzy i soliści jest wydawnictwo pt.: "In the Rhythm of Chopin"- w roku 2012 publikacja uzyskała status platynowej płyty w kategorii Jazz. W roku 2022 orkiestra nagrała siódmą już płytę pt.: "Impressions on Bach" z udziałem big - bandu i orkiestry kameralnej.
W repertuarze festiwalowym Eljazz Big - Bandu znajdą się najsłynniejsze utowy grane przez big - band'y oraz wybitnych perkusistów i bendleaderów takich jak: Buddy Rich i Gene Krupa.
NEW JAZZ - MYRCZEK & TOMASZEWSKI
Tomaszewski & Myrczek – Polska
Paweł Tomaszewski
Wojciech Myrczek
Projekt tworzą dwaj wybitni muzycy jazzowi: siedmiokrotny zdobywca tytułu wokalista jazzowy roku (2015-2021) wg czytelników pisma Jazz Forum, laureat Grand Prix i nagrody publiczności Shure Montreux Jazz Voice Competition w Szwajcarii – Wojciech Myrczek oraz zwycięzca wszystkich najważniejszych konkursów jazzowych w Polsce, pianista, kompozytor i producent muzyczny współpracujący z czołówką polskiej i światowej sceny muzycznej – Paweł Tomaszewski.
Siła duetu tkwi w przenikaniu się dwóch indywidualności, które emanują charyzmą, muzyczną pomysłowością i dbałością o każdy dźwiękowy szczegół. Prowadzą muzyczny dialog, nie stroniąc od niebanalnej piosenki, szalonej improwizacji, chwil zadumy – zawsze jednak z poczuciem humoru. W swoim scenicznym dialogu odwołują się do standardów muzyki jazzowej i popowej, które w ich interpretacjach nabierają nieznanych dotąd kształtów i barw.
Jesienią 2014 roku ukazała się płyta duetu "Love Revisited". Sam album jak i promujące go koncerty zostały entuzjastycznie przyjęte przez publiczność w Polsce, Europie oraz Australii.
Swoją muzykę artyści prezentowali w prestiżowych salach koncertowych takich jak NOSPR w Katowicach, Konserwatorium w Sankt Petersburgu, Konserwatorium w Hobart, Bird's Basement w Melbourne, The Basement w Sydney, Filharmonia Łódzka, Filharmonia Zabrzańska, Filharmonia Świętokrzyska, Instytut Fiński w Paryżu, BMC Opus Jazz Club w Budapeszcie, Teatr Roma w Warszawie, Teatr Stary w Lublinie oraz na scenach festiwali Montreux Jazz Festival w Szwajcarii, Sofia Jazz Peak Festival w Bułgarii, Celje International Jazz Festival na Słowenii, Brisbane Vocal Jazz Festival, Devonport Jazz, Bielska Zadymka Jazzowa, Jazz Jamboree, Jazz nad Odrą, Festiwal Pianistów Jazzowych w Kaliszu, Silesian Jazz Festival i wielu innych.
______________________
Kalendarz wydarzeń odbywających się w Bydgoszczy miej zawsze pod ręką dzięki aplikacji mobilnej (Android i iOS).
______________________
Informacje o wydarzeniach przesyłajcie na adres wydarzenia@visitbydgoszcz.pl
______________________
Bydgoskie Centrum Informacji nie ponosi odpowiedzialności za jakiekolwiek zmiany miejsc, godzin i dat wydarzeń.