20 BYDGOSZCZ JAZZ FESTIVAL - ŚWIATOWE KONCERTY GWIAZD: STACEY KENT TRIO
Gdzie?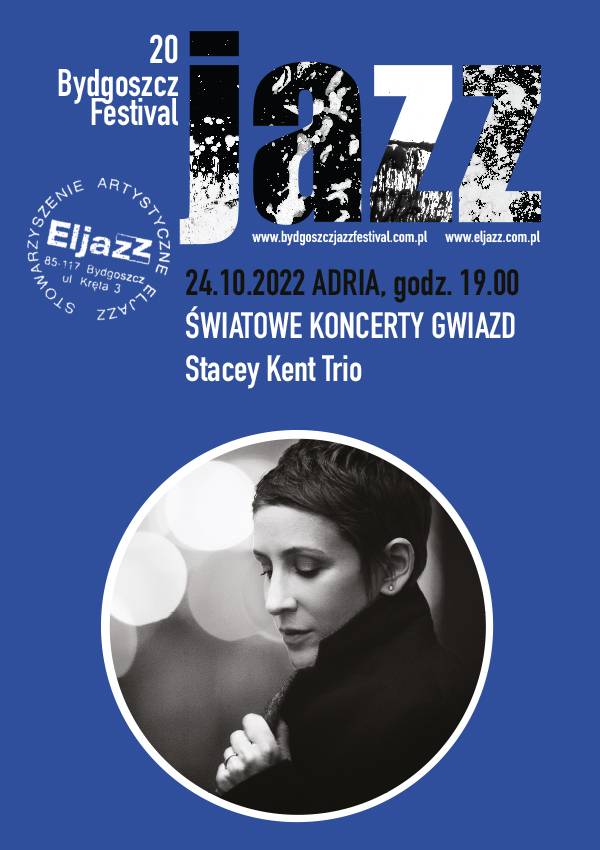 Informacje od Organizatora:
STACEY KENT - śpiew
ART HIRAHARA - fortepian
JIM TOMLINSON - saksofon
Stacey Kent to absolutna ekstraklasa wokalistyki jazzowej, artystka wytwórni Blue Note, laureatka prestiżowych nagród (nominowana m.in. do nagrody Grammy).Urodziła się w Stanach Zjednoczonych, ale karierę rozpoczęła w Anglii, gdzie związała się z saksofonistą Jimem Tomlinsonem – nie tylko artystycznie, ale również prywatnie. Wraz z publikacją jej pierwszego solowego albumu "Close Your Eyes" w 1997 krytycy ogłosili narodziny nowej gwiazdy jazzu o czystym, urzekającym głosie. Chwalili jej umiejętność nieskazitelnego frazowania i niepowtarzalną estetykę łączącą wrażliwość i wyrafinowanie. Stacey Kent ugruntowała swoja pozycję jako jedna z najjaśniejszych gwiazd jazzu nowego stulecia: wybrano ją najlepszą wokalistką jazzową British Jazz Awards 2001 oraz BBC Jazz Awards 2002. Jeszcze większy sukces nadszedł wraz z wydaniem jesienią 2007 roku szóstego albumu artystki "Breakfast On the Morning Tram" (pierwszego pod szyldem legendarnej wytwórni Blue Note), który niemal od razu sprzedał się w liczbie 300 000 egzemplarzy. We Francji album pobił rekord – 150 000 CD to jeden z najlepszych wyników sprzedaży jazzowej płyty w tym kraju. Artystka odbyła wówczas triumfalną trasę koncertową. Wiosną 2009 roku Stacey Kent została uhonorowana orderem narodowym Ordre des Arts et des Lettres przyznawanym przez francuskiego ministra kultury. Pierwsze oznaki jej frankofońskich skłonności były widoczne już na płycie "Breakfast On the Morning Tram", gdzie znalazło się kilka piosenek z francuskiego repertuaru: "Samba Saravah" oraz dwa covery utworów Serge'a Gainsbourg'a. Na albumie "Raconte-moi…" Kent powróciła do klasyki francuskiej muzyki, odkrywając na nowo utwory twórców takich jak Barbara, Paul Misraki, Henri Salvador, Georges Moustaki i Benjamin Biolay.
"Ma styl porównywalny do największych – do Billie Holiday, Elli Fitzgerald, śpiewa jak Nat King Cole, czysto, wyraźnie, w tonie przypominającym rozmowę" – powiedział niegdyś o Kent trzykrotny zdobywca Oscara, nieżyjący już Jay Livingston.
"Każdy, kto słucha śpiewu Stacey Kent ma wrażenie, że śpiewa ona wyłącznie dla niego" – komplementują krytycy, podkreślając wyjątkową więź, która rodzi się na koncertach pomiędzy artystką a słuchaczami.
Wszystkie płyty Stacey Kent okazały się bestsellerami i uzyskiwały prestiżowe nagrody (m.in. BBC Jazz Awards, British Jazz Award).
______________________
Kalendarz wydarzeń odbywających się w Bydgoszczy miej zawsze pod ręką dzięki aplikacji mobilnej (Android i iOS).
______________________
Informacje o wydarzeniach przesyłajcie na adres wydarzenia@visitbydgoszcz.pl
______________________
Bydgoskie Centrum Informacji nie ponosi odpowiedzialności za jakiekolwiek zmiany miejsc, godzin i dat wydarzeń.