Fisz Emade Tworzywo - Ballady i Protesty
Gdzie?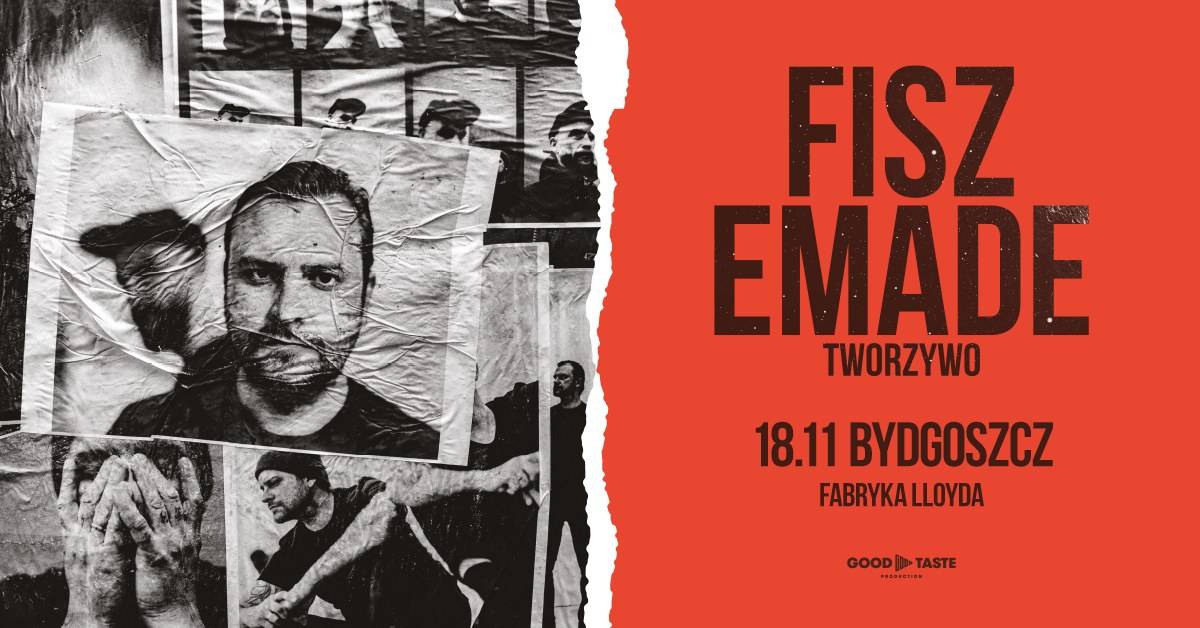 Informacje od Organizatora:
Bilety w cenach: miejsca stojące (parter) – 99 zł (I pula), 119 zł (II pula)
Bilety dostępne na:
https://www.eventim.pl/.../fisz-emade-tworzywo.../...
https://sklep.ebilet.pl/282037926664077373
Sprzedaż biletów rozpocznie się w czwartek 1 września o godzinie 12:00
Uwaga! Zakup biletów poza autoryzowanymi punktami sprzedaży (Facebook, aukcje internetowe itp.) stwarza ryzyko zakupu biletów nieoryginalnych lub nieważnych, które nie umożliwią wejścia na koncert.
"Ballady i Protesty" to mocny powrót do korzeni muzycznej podróży zespołu do lat 90., w których rozwijała się tak zwana muzyka miasta - hip hop czy elektronika. To sentymentalna opowieść o brzmieniach, które były inspiracją i wskazały drogę poszukiwań. Ale przede wszystkim to płyta sprzeciwu. Pełna niezgody na infantylną, agresywną, czarno-białą politykę, na omijanie w życiu publicznym tak ważnych tematów, jak prawa człowieka czy zmiany klimatyczne. I, jak zawsze u Fisza, wszystko to przekazane w mocnych tekstach, pełnych ironii, skupienia nad pędzącym nie wiadomo dokąd światem, wnikliwych spojrzeń w głąb gościa zagubionego w chaosie nieuniknionych zmian. Na płycie znajdziemy 18 utworów, w nagraniach których udział wzięli m.in. Mariusz Obijalski (instr. klawiszowe), Michał Sobolewski (gitary), Marcin Pendowski i Staszek Wróbel (bas), oraz wokalistka zespołu Shyness! i Rebeka Iwona Skwarek i Chór Akademii Morskiej w Szczecinie pod dyrekcją Sylwii Fabiańczyk-Makuch.
O ZESPOLE
Fisz Emade Tworzywo od lat zajmuje ważną pozycję na polskim rynku fonograficznym. Od 2001 roku wydali 10 płyt utrzymanych w stylistyce hiphopowej lub okołohiphopowo-eklektycznej. Jako pierwsi na tak wysokim poziomie wprowadzili w polskim hip hopie miękkie brzmienia i teksty nawiązując swego czasu do klimatów Native Tongues. Od tamtego momentu do dzisiaj bracia stale eksperymentują, starając się jednak, by wszystkie ich wynalazki łączył jeden składnik - wysoka jakość i zaangażowanie. W wersji koncertowej występują jako FISZ EMADE TWORZYWO w mocno poszerzonym składzie wsparci znakomitymi muzykami.
______________________
Kalendarz wydarzeń odbywających się w Bydgoszczy miej zawsze pod ręką dzięki aplikacji mobilnej (Android i iOS).
______________________
Informacje o wydarzeniach przesyłajcie na adres wydarzenia@visitbydgoszcz.pl
______________________
Bydgoskie Centrum Informacji nie ponosi odpowiedzialności za jakiekolwiek zmiany miejsc, godzin i dat wydarzeń.