X Bydgoski Marsz dla Życia i Rodziny
Gdzie?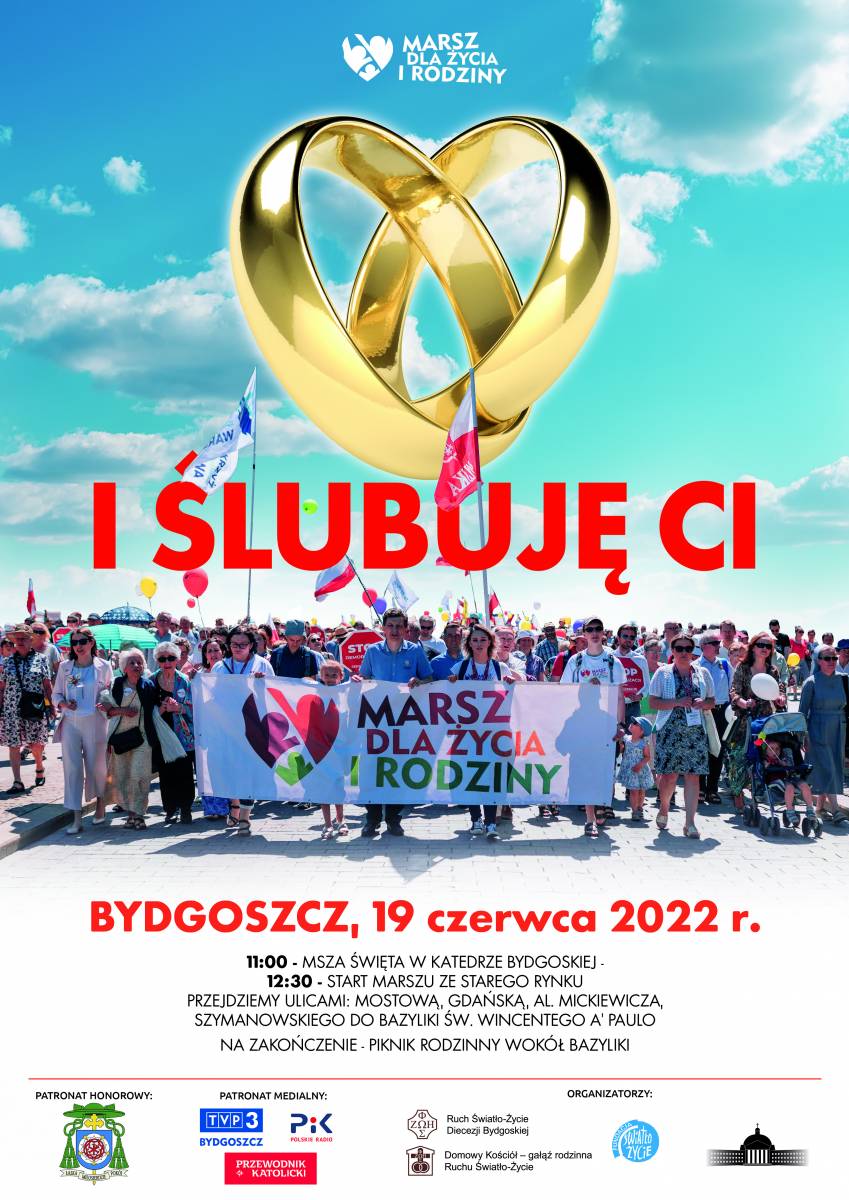 19 czerwca 2022 r. pod hasłem "I ślubuję Ci' ulicami Bydgoszczy przejdzie Marsz dla Życia i Rodziny. Hasło zostało zaczerpnięte z przysięgi małżeńskiej, dlatego tegoroczny marsz będzie miał charakter weselny. Tym razem uczestników wydarzenia poprowadzi Para Młoda, która pojedzie kabrioletem. Marsz zakończy się piknikiem rodzinnym na placu przy Bazylice św. Wincentego à Paulo.
Rozpocznie się Mszą św. o godzinie 11.00 w katedrze bydgoskiej, pod przewodnictwem ordynariusz diecezji bydgoskiej, ks. bp. Krzysztofa Włodarczyka. Wyruszy ze Starego Rynku o godz. 12.30 i przejdzie ulicami: Mostową, Gdańską, Al. Mickiewicza, Al. Ossolińskich, Szymanowskiego do Bazyliki św. Wincentego à Paulo.
Marsz to przede wszystkim święto rodzin, stanowiące okazję do tego, by publicznie manifestować radość z posiadania rodziny, opartej na małżeństwie kobiety i mężczyzny. To również sposobność, by spotkać osoby, z którymi dzielimy te same wartości. Obecność na marszu to jednocześnie opowiedzenie się po stronie życia od poczęcia do naturalnej śmierci.
Hasłem przewodnim tegorocznego Marszu są słowa zaczerpnięte z przysięgi małżeńskiej: "I ŚLUBUJĘ CI". Ma ono na celu zwrócenie uwagi na moment zaślubin, który zazwyczaj staje się początkiem życia małżeńskiego i rodzinnego. Dla wielu małżonków jest to przypomnienie i uświadomienie sobie znaczenia wypowiadanych w niej słów.
- Chcemy, aby rodziny poprzez uczestnictwo w marszu zaświadczyły o pięknej i trwałej miłości małżeńskiej i rodzinnej. Aby rodziny dawały młodemu pokoleniu przykład wierności podstawowym wartościom. Aby tym, którzy się wahają z założeniem rodziny dodać odwagi i ogólnie aby wokół tradycyjnej rodziny tworzyć przyjazny klimat. Dodatkowym elementem potwierdzającym trwanie w związku małżeńskim będzie niesiony gadżet, na którym małżonkowie pokażą liczbę wspólnie przeżytych lat. - powiedzieli, Regina i Marek Piątkowscy, organizatorzy Bydgoskiego marszu.
Na marsz zaproszeni są wszyscy, dla których ważne są wartości rodzinne i szacunek dla życia każdej osoby ludzkiej od poczęcia do naturalnej śmierci. Zarówno marsz jak i piknik, będą okazją do świętowania i integracji bydgoskich rodzin. Podczas pikniku dzieci będą mogły wziąć udział w konkursie plastycznym, przejechać się na kucyku czy pobawić się w parku rozrywki. W tym czasie do tańca przygrywać będzie zespół muzyczny Jurek Paterski Balans.
Organizatorami Bydgoskiego Marszu dla Życia i Rodziny jest Ruch Światło-Życie oraz Fundacja Światło-Życie Ośrodek w Bydgoszczy. Wsparca merytorycznego udziela nam także Centrum Życia i Rodziny z Warszawy, które jest koordynatorem Marszy w Polsce.
______________________
Kalendarz wydarzeń odbywających się w Bydgoszczy miej zawsze pod ręką dzięki aplikacji mobilnej (Android i iOS).
______________________
Informacje o wydarzeniach przesyłajcie na adres wydarzenia@visitbydgoszcz.pl
______________________
Bydgoskie Centrum Informacji nie ponosi odpowiedzialności za jakiekolwiek zmiany miejsc, godzin i dat wydarzeń.