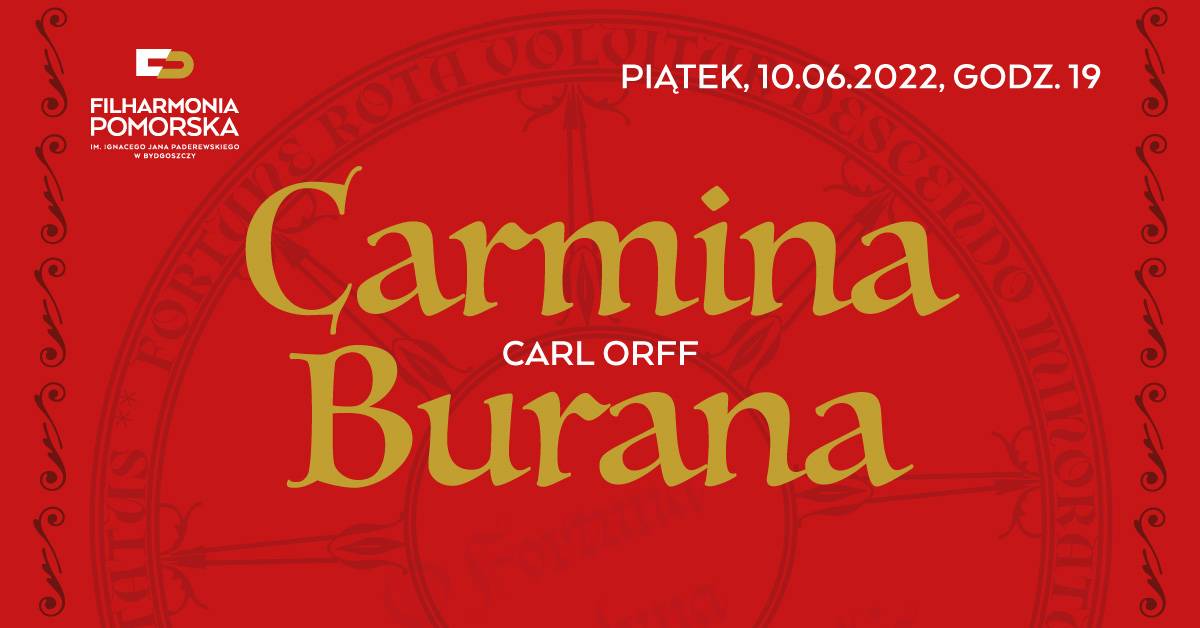 Informacje od Organizatora:
Wykonawcy:
Orkiestra Symfoniczna Filharmonii Pomorskiej
Chór Akademicki Politechniki Bydgoskiej
Chór Akademicki Uniwersytetu Kazimierza Wielkiego w Bydgoszczy
Chór Akademicki Uniwersytetu Mikołaja Kopernika w Toruniu
Chór Rubinki Państwowego Zespołu Szkół Muzycznych w Bydgoszczy
Mykoła Diadiura dyrygent
Joanna Moskowicz sopran
Kacper Szelążek kontratenor
Thomas Wittig baryton
Agnieszka Sowa przygotowanie chóru Politechniki Bydgoskiej i chóru Rubinki
Bernard Mendlik, Benedykt Odya przygotowanie chóru UKW
Arkadiusz Kaczyński przygotowanie chóru UMK
Repertuar:
Carl Orff - Carmina Burana
Bilety do nabycia w kasie filharmonii (wt—pt. godz. 14.00–18.00) oraz godzinę przed koncertem
Rezerwacja telefoniczna (12.00-18.00)
+48 52 321 02 34
+48 52 321 04 67
Rezerwacja online
kasa.biletowa@filharmonia.bydgoszcz.pl
www.bilety24.pl
O koncercie:
Kantata sceniczna Carmina Burana to najsłynniejsze dzieło Carla Orffa. Nazwę swą czerpie od średniowiecznego zbioru pieśni odnalezionego w 1803 roku w bawarskim opactwie Benediktbeuren. Manuskrypty trafiły do rąk Carla Orffa i zainspirowały go do stworzenia wielkiego dzieła wokalno-instrumentalnego. W pierwszej części kompozytor umieszcza pieśni sławiące naturę i budzącą się wiosnę, druga jest pochwałą Bachusa, trzecia mówi o rozkoszach miłości. Mottem całego utworu jest apoteoza życia i afirmacja świata. Carmina Burana odniosła niesamowity sukces podczas swojej premiery w 1937 roku, od tego czasu weszła do kanonu muzyki poważnej, a O Fortuna jest jednym z najbardziej znanych tematów chóralno-symfonicznych.
Na estradzie wraz z Orkiestrą Symfoniczną FP wystąpią połączone bydgoskie chóry. Dla Chóru Politechniki Bydgoskiej będzie to koncert uświetniający Jubileusz 25-lecia nieprzerwanej działalności zespołu na tej Uczelni.
______________________
Kalendarz wydarzeń odbywających się w Bydgoszczy miej zawsze pod ręką dzięki aplikacji mobilnej (Android i iOS).
______________________
Informacje o wydarzeniach przesyłajcie na adres wydarzenia@visitbydgoszcz.pl
______________________
Bydgoskie Centrum Informacji nie ponosi odpowiedzialności za jakiekolwiek zmiany miejsc, godzin i dat wydarzeń.