"Wieczór przy strumieniu" na 102. urodziny św. Jana Pawła II
Gdzie?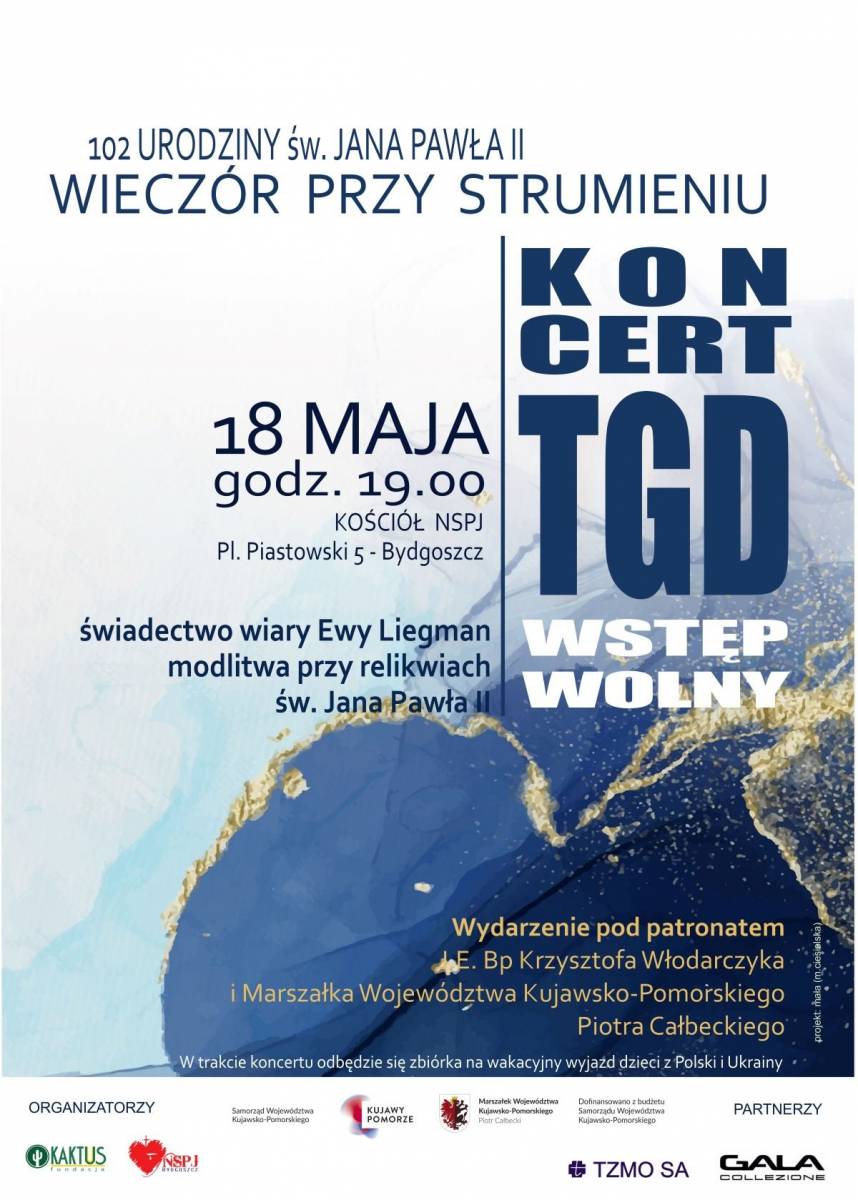 Informacje od Organizatora:
"Wieczór przy strumieniu" na 102. urodziny św. Jana Pawła II
Dzień urodzin Papieża Polaka to doskonała okazja, by przypomnieć Jego Osobę i Jego nauczanie, a także by wzmacniać więzi wspólnoty mieszkańców województwa kujawsko-pomorskiego, w tym Diecezji Bydgoskiej. To doskonała okazja również do tego, by podnosić świadomość mieszkańców Kujaw i Pomorza, że św. Jan Paweł II jest Patronem Województwa i Jego wstawiennictwo jest dla nas łaską.
18 maja 2022 roku pragniemy zaprosić wszystkich do wspólnego uwielbienia za dar życia Karola Wojtyły – Jana Pawła II. Tytuł wydarzenia "Wieczór przy strumieniu" nawiązuje do Tryptyku Rzymskiego Karola Wojtyły – poematu inspirującego do odnajdywania sensu i radości życia, docierania do źródła, odkrywania osobistej drogi i nabierania odwagi do jej podjęcia.
Program "Wieczoru przy strumieniu" składa się z trzech części. Pierwsza to wspomnienie Jana Pawła II i spotkanie z jego słowem – tym zawartym w tworzonej przez Niego poezji. Druga część to spotkanie ze świadkiem – Ewą Liegman, Prezesem Hospicjum Pomorze Dzieciom z Gdańska i jej historia odkrywania swojego życia dzięki zaangażowaniu na rzecz drugiego człowieka. Część trzecia to koncert zespołu Trzecia Godzina Dnia. Koncert ten wpisuje się w ogólnopolską trasę promującą nową płytę. Płyta "Twoje imię" to wyjątkowy zbiór kompozycji, które w ostatnich latach śpiewane były przez znanych muzyków na całym świecie. Wśród nich znalazło się aż 10 hitów muzyki Gospel i worship takich jak "Hosanna" Kirka Franklina czy "Mighty To Save" australijskiej grupy Hillsong, oczywiście przetłumaczonych na język polski. – Oprócz energicznych i melodyjnych coverów, zespół TGD prezentuje na płycie zupełnie nowe autorskie utwory, których teksty i dźwięki dotkną niejednego serca – mówią autorzy.
Obchody 102. rocznicy urodzin Jana Pawła II zostały objęte patronatem J. E. Ks. Bp. Krzysztofa Włodarczyka Ordynariusza Diecezji Bydgoskiej oraz Piotra Całbeckiego Marszałka Województwa Kujawsko-Pomorskiego.
"Wieczór przy strumieniu" odbędzie się 18 maja 2022 o godz. 19:00 w kościele pw. Najświętszego Serca Pana Jezusa w Bydgoszczy, Plac Piastowski 5. Organizatorami wydarzenia są Fundacja Kaktus i Parafia pw. Najświętszego Serca Pana Jezusa w Bydgoszczy.
Kontakt:
Fundacja "Kaktus" - Anna Leszczyńska, tel. 575 555 321
Parafia pw. Najświętszego Serca Pana Jezusa - ks. Krzysztof Buchholz tel. 504 062 376
____________________
Kalendarz wydarzeń odbywających się w Bydgoszczy miej zawsze pod ręką dzięki aplikacji mobilnej (Android i iOS).
______________________
Informacje o wydarzeniach przesyłajcie na adres wydarzenia@visitbydgoszcz.pl
______________________
Bydgoskie Centrum Informacji nie ponosi odpowiedzialności za jakiekolwiek zmiany miejsc, godzin i dat wydarzeń.