Karnawał zwierząt - KONCERT NA ŻYWO
Gdzie?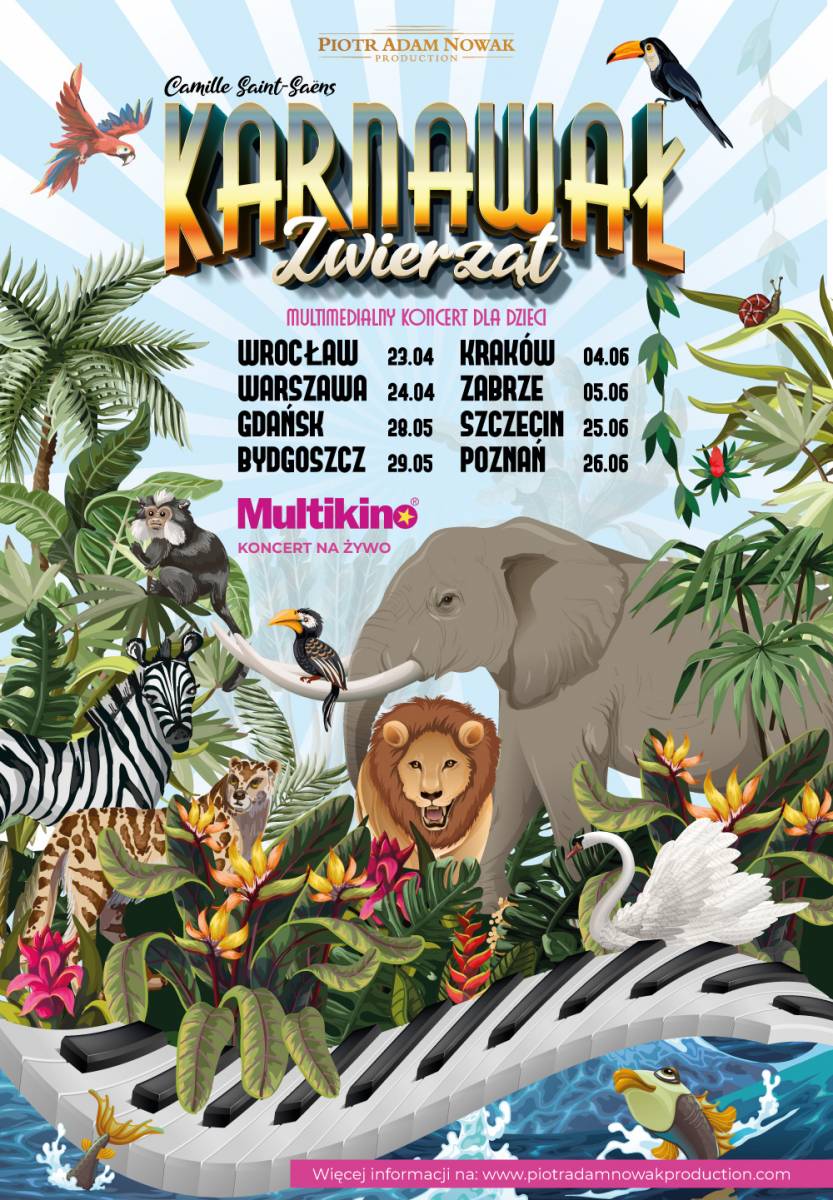 Karnawał zwierząt Charlesa Camilla Saint-Saënsa to koncert muzyki klasycznej na żywo ,wzbogacony o prezentowane na kinowym ekranie wizualizacje multimedialne . Jakkolwiek koncert dedykowany jest dzieciom w wieku szkolnym to nie mamy wątpliwości, że będzie on również fantastyczną rozrywką dla ich rodziców i dziadków.
Uznany, romantyczny kompozytor Charles Camille Saint-Saëns, chcąc wypocząć po trudnych życiowych chwilach, postanowił spędzić lato na zabawie lekkimi, żartobliwymi utworami. Tak powstał cykl 14 miniatur, "fantazji zoologicznych" nazwany "Karnawałem zwierząt". Z czasem cykl ten stał się najbardziej rozpoznawalnym utworem kompozytora. Każda z miniatur "Karnawału zwierząt" ukazuje inne zwierzę. W istocie, zwierzęta są tylko pretekstem do pokazania ludzkich wartości, relacji i słabości.
Ten koncert to zatem świetna okazja dla edukacji kulturalnej najmłodszych widzów!
Producentem koncertu jest Piotr Adam Nowak, założyciel i dyrektor artystyczny Opera da Camera di Roma (Rzymska Opera Kameralna) czyli założonego w Rzymie stowarzyszenia, zrzeszającego najwybitniejszych muzyków i solistów muzyki klasycznej.
Koncert zaprezentowany zostanie przez muzyków Prestige Chamber Orchestra.
Program koncertu (miniatury):
Wstęp i marsz królewski lwa
Kury i koguty
Kułany (osły azjatyckie)
Żółwie
Słoń
Kangury
Akwarium
Osobistości z długimi uszami
Kukułka w głębi lasu
Ptaszarnia
Pianiści
Skamieliny
Łabędź
Finał
Czas trwania koncertu: 50 minut (bez przerwy)
Organizator koncertu: Piotr Adam Nowak Production; Copernicus Sp. z o.o.
______________________
Kalendarz wydarzeń odbywających się w Bydgoszczy miej zawsze pod ręką dzięki aplikacji mobilnej (Android i iOS).
______________________
Informacje o wydarzeniach przesyłajcie na adres wydarzenia@visitbydgoszcz.pl
______________________
Bydgoskie Centrum Informacji nie ponosi odpowiedzialności za jakiekolwiek zmiany miejsc, godzin i dat wydarzeń.