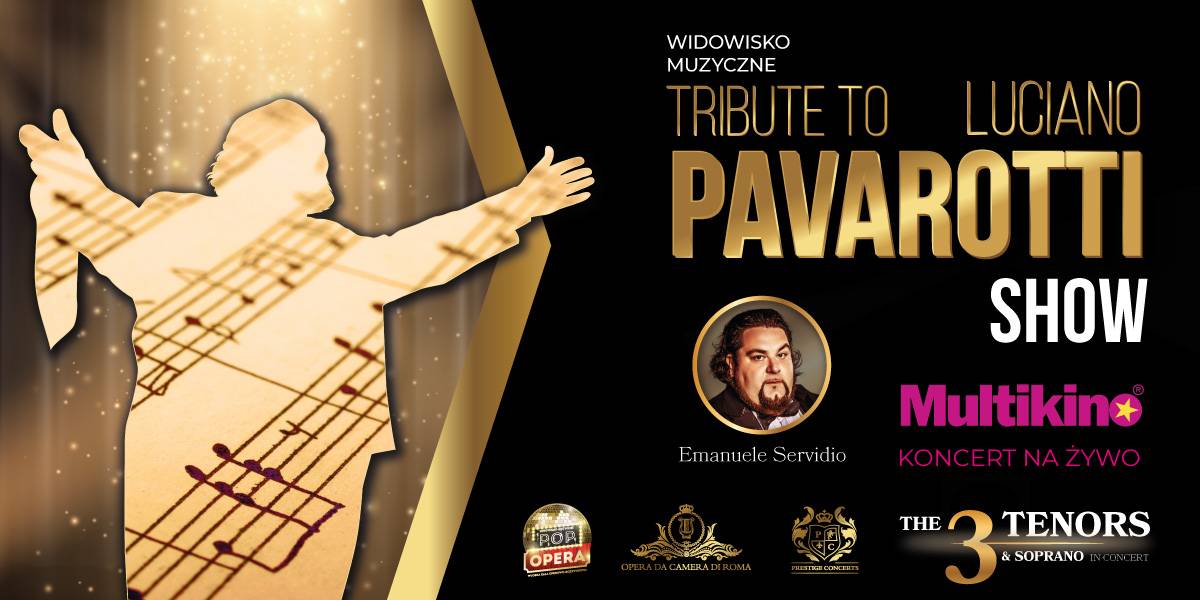 Wybitny tenor Luciano Pavarotti, w odpowiedzi na głosy krytyków, iż wykonuje populistyczne, popowe utwory odpowiedział: "Niektórzy twierdzą, że słowo "pop" jest obraźliwym sposobem wyrażenia słowa "nieistotny" – nie akceptuję takiego podejścia. Podobnie nie akceptuję podejścia, iż słowo klasyka oznacza "nudny". Jest tylko zła i dobra muzyka".
Te właśnie słowa i postawa wielkiego artysty, który w ramach projektu "Pavarotti & Friends" udowodnił, że można znakomicie łączyć muzykę operową i popową, przyświecały nam przy opracowywaniu programu koncertu "Tribute to Luciano Pavarotti". W ten sposób powstał wyjątkowy i innowacyjny koncert, który przełamuje stereotypy na temat muzyki klasycznej i operowej oraz muzyki popularno – rozrywkowej.
Podczas koncertu, obok najsławniejszych operowych hitów, które mistrz Pavarotti zaprezentował m.in. u boku tenorów Domingo i Carrerasa ("Libiamo ne' lieti calici", "La donna mobile", "O sole mio"), usłyszymy również utwory popowej i rockowej muzyki rozrywkowej, przestawione w nowatorskiej, operowej odsłonie. Brzmienie popowe połączone zostanie z klasycznym i dostojnym brzmieniem Prestige Chamber Orchestra (instrumenty smyczkowe, instrumenty dęte, sekcja rytmiczna). Podczas koncertu zaprezentujemy również autorskie utwory Andrea Bocelliego, a więc obecnego, niekwestionowanego mistrza łączenia gatunków muzyki pop i muzyki operowej.
W koncercie wystąpi Emanuele Servidio – włoski tenor o potężnym, dramatycznym głosie i posturze mistrza Pavarottiego, uwielbiany przez publiczność. Laureat wielu międzynarodowych konkursów operowych. Występował na deskach teatrów i festiwali operowych we Włoszech, Szwajcarii, Brazylii, Chin, Guatemali i Ukrainy, prezentując przykładowo takie role operowe jak Don Carlo, Don Alvaro, Canio, Pinkerton, Radames, Rodolfo, Książę Mantui, Makduf, Mario Cavaradossi. Obok Emanuela na scenie wystąpi gwiazda włoskiej sceny popowej - Mary Montesano (występująca m.in. z Erosem Ramazzoti, Zucchero, Battiato) oraz polscy wokaliści popowi, będący laureatami takich programów jak Voice of Poland, Mam talent.
Zapraszamy na wieczór pełen wspaniałej włoskiej muzyki w świetnym wykonaniu!
Premiera koncertu zaplanowana na marzec 2022 r. w Teatro Flaiano w Rzymie.
Program koncertu:
Too much love will kill you – Queen
The magic of love – Lionel Richie
Cielito Lindo - Enrique Iglesias
Hey Jude - The Beatles
E Più Ti Penso – Andrea Bocelli
It's a Man's Man's World – James Brown
New York New York – Frank Sinatra
"Libiamo ne' lieti calici" z opery "La Traviata"
"La donna è mobile" z opery "Rigoletto"
Volare - Domenico Modugno
Vivo per lei - Andrea Bocelli
Nessun dorma z opery "Turandot"
Caruso – Lucio Dalla
Miserere – Zucchero
O sole mio – pieśń neapolitańska
There must be an angel - Eurythmics
Con Te Partiro (Time to say goodbye) - Andrea Bocelli
Organizator zastrzega sobie prawo do modyfikacji programu koncertu
Czas trwania koncertu: 75 minut;
Organizator koncertu: Piotr Adam Nowak Production; Copernicus Sp. z o.o.
______________________
Kalendarz wydarzeń odbywających się w Bydgoszczy miej zawsze pod ręką dzięki aplikacji mobilnej (Android i iOS).
______________________
Informacje o wydarzeniach przesyłajcie na adres wydarzenia@visitbydgoszcz.pl
______________________
Bydgoskie Centrum Informacji nie ponosi odpowiedzialności za jakiekolwiek zmiany miejsc, godzin i dat wydarzeń.