Percival Wild Hunt Live - koncert
Gdzie?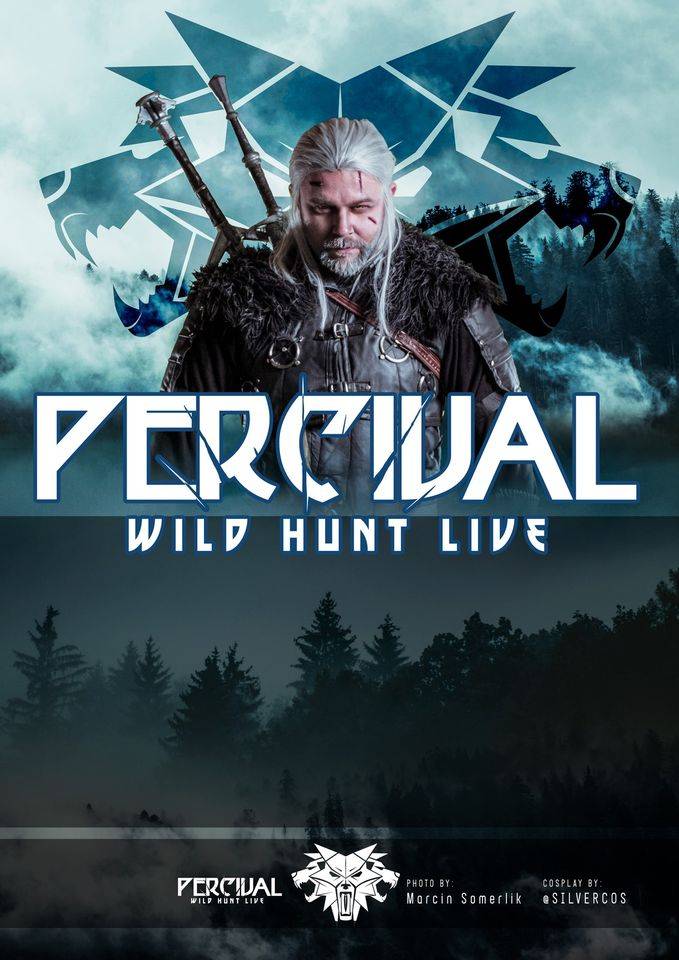 Ceny biletów:
Miejsca VIP - 120,00zł. (przedsprzedaż) / 140,00zł. (w dniu koncertu)
Miejsca I - 100,00zł. (przedsprzedaż) / 120,00zł. (w dniu koncertu)
Miejsca II - 80,00zł. (przedsprzedaż) / 100,00zł. (w dniu koncertu)
Miejsca III - 60,00zł. (przedsprzedaż) / 80,00zł. (w dniu koncertu)
Bilety:
Ekobilet - https://bit.ly/2WZbfxh
Ticketmaster - https://www.ticketmaster.pl/event/percival-bilety/17755
WILD HUNT LIVE
Niesamowity spektakl muzyczny w wykonaniu grupy Percival Schuttenbach - wielokrotnie nagradzanych (m.in. MocArt 2015 wraz z Marcinem Przybyłowiczem i Mikołajem Stroińskim) współtwórców muzyki do gry "Wiedźmin 3: Dziki Gon" oraz płyty "Równonoc" (zdobywcy Diamentowej Płyty); mających na swoim koncie koncerty w całej Europie i na świecie, goszczących ze swoją muzyką na ekranach TV od Szwecji po Serbię, z fanklubami w takich miejscach jak Brazylia czy Chiny.
Podczas WILD HUNT LIVE zespół prezentuje utwory wykorzystane w grze, doskonale znane każdemu fanowi trzeciej części Wiedźmina, w większości w ich oryginalnej wersji, z towarzyszeniem przygotowanych specjalnie na potrzeby spektaklu projekcji zawierających fragmenty oraz niepublikowane nigdzie indziej materiały video (przygotowane przez Marcin Somerlik Productions ),
Występ Percivala dopełni wspaniałe oświetlenie oraz niesamowite popisy taneczno-akrobatyczne towarzyszącego im Teatr AVATAR - grupy, która ma na swoim koncie występy m.in. w Dubaju, Rumunii, Niemczech, we Włoszech oraz na wszystkich stadionach podczas Euro 2012 (http://www.teatravatar.pl/ )
Wszystko to okraszone pięknymi strojami i scenografią nawiązującą do klimatu gry Wiedźmin.
Przedstawienie WILD HUNT LIVE zdobyło mnóstwo pozytywnych recenzji, zarówno wśród dziennikarzy jak i słuchaczy, którzy zachwyceni spektaklem nierzadko decydowali się na jego obejrzenie po kilka razy.
Jest to gratka nie tylko dla fanów gier komputerowych, ale również dla wszystkich miłośników pięknej muzyki, wspaniałych głosów, ciekawego instrumentarium, tańca oraz klimatów folk i fantasy.
____________________
Kalendarz wydarzeń odbywających się w Bydgoszczy miej zawsze pod ręką dzięki aplikacji mobilnej (Android i iOS).
______________________
Informacje o wydarzeniach przesyłajcie na adres wydarzenia@visitbydgoszcz.pl
______________________
Bydgoskie Centrum Informacji nie ponosi odpowiedzialności za jakiekolwiek zmiany miejsc, godzin i dat wydarzeń.