DF2023: IKONY POLSKIEGO JAZZU - Dorota Miśkiewicz & Henryk Miśkiewicz "Nasza Miłość"
Gdzie?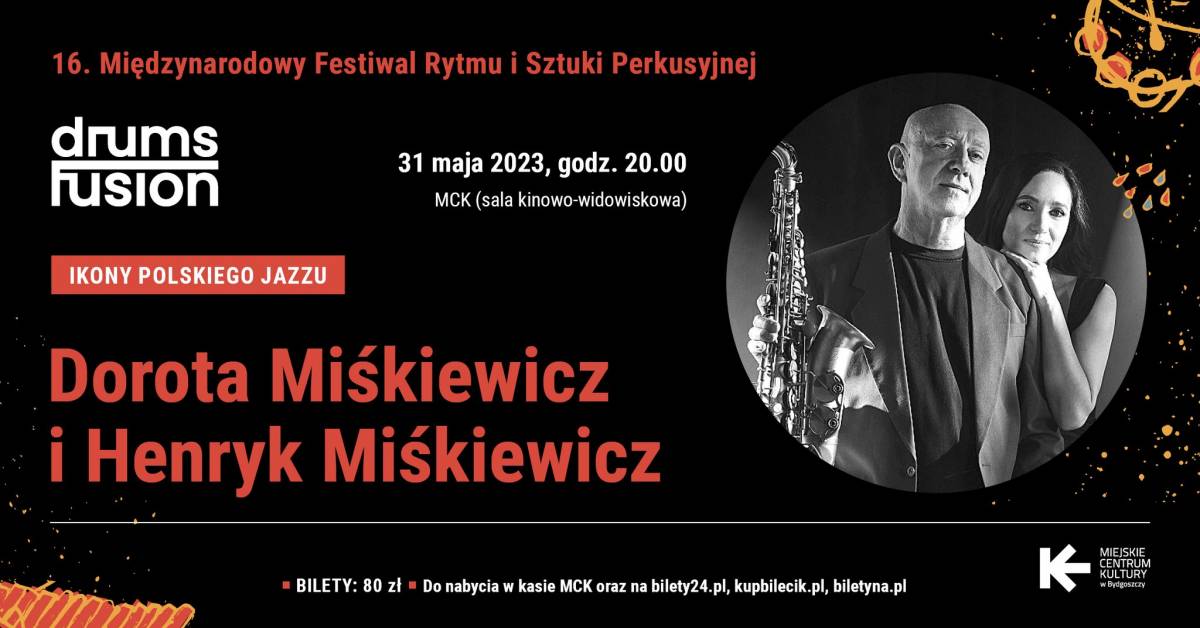 Informacje od Organizatora:
We środę, 31 maja wieczorem, podczas 16. Międzynarodowego Festiwalu Rytmu i Sztuki Perkusyjnej DRUMS FUSION, w ramach cyklu IKONY POLSKIEGO JAZZU wystąpią Dorota i Henryk Miśkiewiczowie z koncertem pn. "Nasza miłość". Mimo, że występowali razem na scenie wielokrotnie, "Nasza miłość" to pierwszy wspólny projekt ojca i córki, saksofonisty i wokalistki jazzowej ze specjalnie stworzonym repertuarem.
Na nowy projekt składają się premierowe utwory napisane przez jego liderów, dodatkowo uzupełniają je dwie kompozycje Michała Miśkiewicza. To charyzmatyczny jazz, liryczny i dynamiczny zarazem. Warstwą słowną są teksty takich mistrzów słowa jak Bogdan Loebl, Ewa Lipska, Wojciech Młynarski, Andrzej Poniedzielski.
Dla Doroty, Henryk Miśkiewicz jest przede wszystkim tatą, ale w jazzowym środowisku uznawany jest za wybitnego saksofonistę. Słychać go było niemalże na każdej polskiej płycie, grał w legendarnym zespole Jazz Carriers oraz w Studio Jazzowym Jana Ptaszyna Wróblewskiego. Koncertował na całym świecie m.in. z Ewą Bem, Andrzejem Jagodzińskim, Jarosławem Śmietaną, Wojciechem Karolakiem czy Adzikiem Sendeckim. Nagrał wiele płyt także jako lider – zaczynając od bestsellerowej "More love", przez "Lyrics", za którą otrzymał Fryderyka, na wielkoobsadowej "Altissimonice" kończąc.
Henryk Miśkiewicz liczył, że córka zostanie skrzypaczką w orkiestrze, ale kariera Doroty potoczyła się inaczej. Nie tylko śpiewa, komponuje, pisze teksty, ale także kreuje projekty artystyczne. Kilkukrotnie głosami krytyków i dziennikarzy magazynu "Jazz Forum" została uznana najlepszą polską wokalistką. W 2016 roku zaprezentowała bezprecedensowy projekt PIANO.PL, podczas którego po raz pierwszy w historii polskiej muzyki na jednej scenie, w kameralnych duetach z towarzyszeniem Atom String Quartet zebrało się kilkunastu wybitnych polskich pianistów trzech generacji, m.in. Włodzimierz Nahorny, Leszek Możdżer, Marcin Wasilewski czy Piotr Orzechowski "Pianohooligan".
"Nasza Miłość" to kolejny muzyczny pomysł Doroty, która nie ukrywa, że jest on jej osobistym prezentem z okazji urodzin Henryka Miśkiewicza.
Występują:
Dorota Miśkiewicz – śpiew;
Henryk Miśkiewicz – saksofon;
Piotr Orzechowski "Pianohooligan" – fortepian;
Sławomir Kurkiewicz – kontrabas;
Michał Miśkiewicz – perkusja.
Bilety: 80 zł
Dostępne w kasie Emceku / Fanaberii (ul. Gdańska 13, Bydgoszcz)
Bilety online:
https://www.bilety24.pl/.../888-drums-fusion-ikony...
https://biletyna.pl/.../Dorota-Miskiewicz-i.../Bydgoszcz
https://www.kupbilecik.pl/.../Dorota+i+Henryk+Mi%C5.../...
______________________
Kalendarz wydarzeń odbywających się w Bydgoszczy miej zawsze pod ręką dzięki aplikacji mobilnej (Android i iOS).
______________________
Informacje o wydarzeniach przesyłajcie na adres wydarzenia@visitbydgoszcz.pl
______________________
Bydgoskie Centrum Informacji nie ponosi odpowiedzialności za jakiekolwiek zmiany miejsc, godzin i dat wydarzeń.