Robotrons : niepokonane aniołowie Galaktyki! - interaktywne show
Gdzie?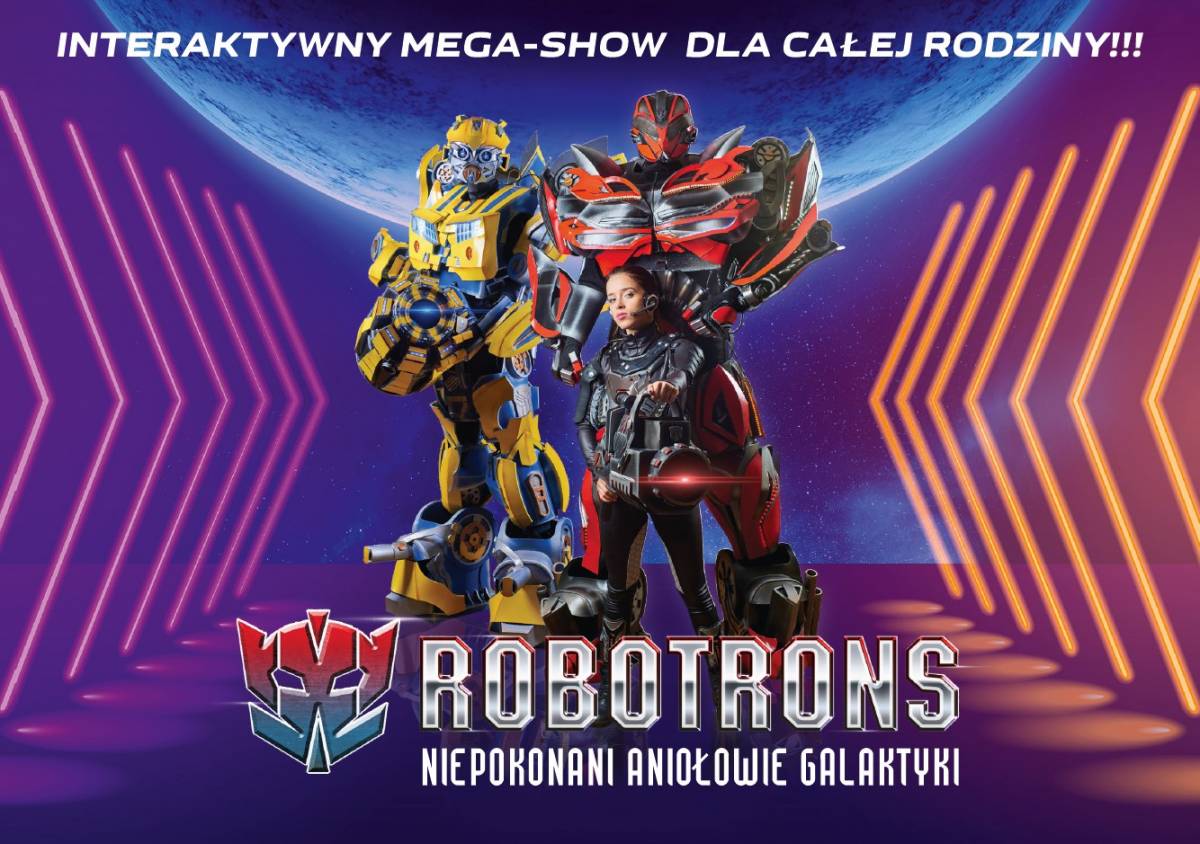 Informacje od Organizatora:
Chcecie dowiedzieć się czegoś o przyszłości? Jesteście gotowi przemierzyć wszechświat? Jeśli tak, to widowisko "Robotrons: Niepokonani Aniołowie Galaktykii" jest właśnie dla Was.
Interaktywne show dla całej rodziny "Robotrons" – czas zobaczyć przyszłość na własne oczy!
Lot w kosmos to marzenie każdego z NAS! Podróż po galaktyce? Bycie jednym z astronautów? Realizacja arcytrudnej misji? Teraz to możliwe! Niepokonani Aniołowie Galaktyki - to możliwość zobaczenia przyszłości na własne oczy! Na widzów czeka fascynującą podróż promem kosmicznym, którego kapitanem jest piękna Alkiona, a jej asystentem android Willy. Na czas przedstawienia sala widowni zamienia się w kabinę statku kosmicznego, a granica pomiędzy rzeczywistością a fantazją kompletnie się zaciera! Opowiemy Wam o Układzie Słonecznym, pokażemy z czego składa się nasz Wszechświat, a publiczność wraz z głównymi bohaterami będzie napotykać i rozwiązywać kosmiczne problemy! Każdy młody podróżnik będzie mógł pobrać i zainstalować na swoim telefonie specjalną aplikację, dzięki której będzie mógł wziąć udział w interaktywnych grach!!!
Co czeka widzów ???
Jest rok 2057...jeden z jego najzwyklejszych dni. Podczas kolejnej wyprawy kosmicznej przez galaktykę, załoga statku i jego pasażerowie stają się zakładnikami znanego kosmicznego pirata - generała Crasha. Pomysłowość, przebiegłość i podstępność generała zagrażają powodzeniu misji. W rezultacie zespół i pasażerowie ryzykują, że na zawsze pozostaną zawieszeni w przestrzeni kosmicznej, dryfując w nieznanej galaktyce. Po awaryjnym lądowaniu na jednej z niezidentyfikowanych planet, kapitan Alkiona spotyka jej dziwnych mieszkańców, stalowych gigantów Robotronsów. Łącząc siły, bez względu na wszelkie przeciwności, nasi Bohaterowie stawiają czoła generałowi by przywrócić nasz świat galaktyce. Jednak generał Crash nie daje za wygraną i wzywa na pomoc swoich najlepszych wojowników!!! Tylko odwaga, poświęcenie i przyjaźń może pomóc młodym podróżnikom powrócić na ziemię i uratować galaktykę przed zniszczeniem. Albowiem dobro zawsze zwycięża zło!
Mega-Show Robotrons - Niepokonani Aniołowie Galaktyki - to:
– 2,5 metrowi stalowi giganci, zdumiewający pod względem wielkości i detali
– interaktywna i edukacyjna koncepcja programu
– projekcja video, wirtualne postaci
– błyskotliwi i charyzmatyczni komiczni antybohaterowie
– pokaz laserowy i świetlny
– znakomita, tematyczna muzyka i efekty dźwiękowe
– rozbudowane i interaktywne dekoracje imitujące kabinę statku kosmicznego.
UWAGA:
- Spektakl przeznaczony dla rodzin z dziećmi powyżej 3 roku życia
- Czas trwania 60 minut
Bilety na www.pankoncert.pl
______________________
Kalendarz wydarzeń odbywających się w Bydgoszczy miej zawsze pod ręką dzięki aplikacji mobilnej (Android i iOS).
______________________
Informacje o wydarzeniach przesyłajcie na adres wydarzenia@visitbydgoszcz.pl
______________________
Bydgoskie Centrum Informacji nie ponosi odpowiedzialności za jakiekolwiek zmiany miejsc, godzin i dat wydarzeń.