Piknik charytatywny ŁATWO POMAGAĆ
Gdzie?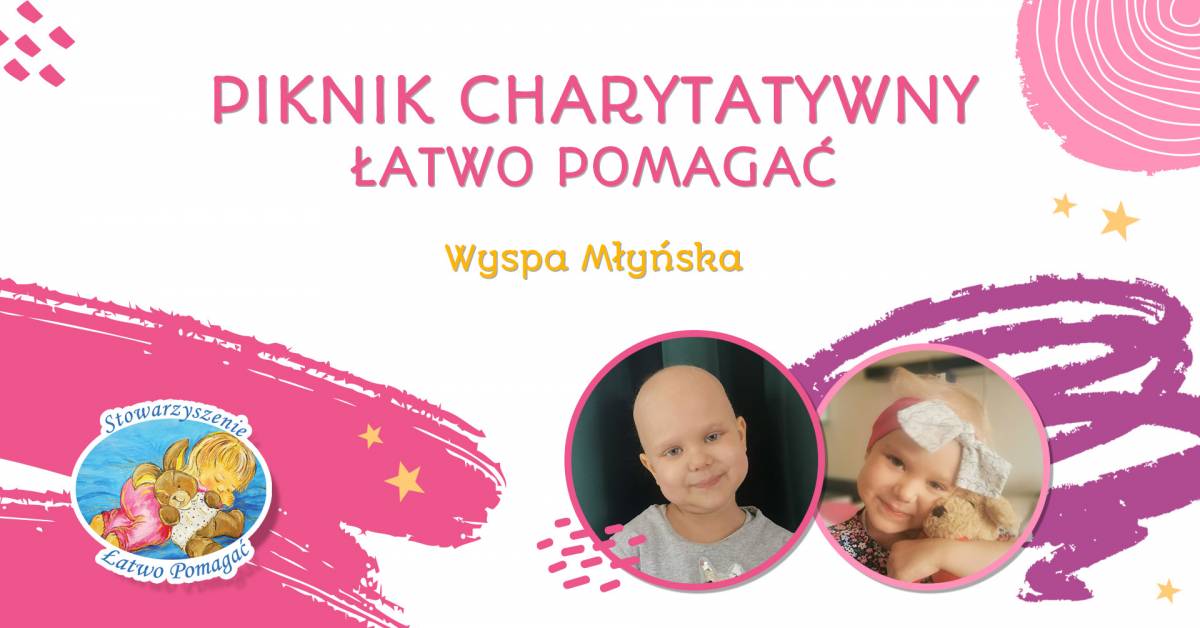 Informacje od Organizatora:
Zapraszamy już po raz czwarty na Piknik charytatywny "Łatwo pomagać", który tym razem odbędzie się na Wyspie Młyńskiej 4 września (niedziela).
Poszukujemy osób, firm…. Które chciałyby w tym dniu być z nami dla naszych kochanych przyjaciół z onkologii. Macie fajny pomysł na stoisko i siebie do zaoferowania to wiedzcie, że bardzo Was potrzebujemy (!)
Celem zbiórki jest zebranie środków pieniężnych, które przeznaczymy na bezpośrednie wsparcie małych pacjentów onkologii i hematologii leczonych w Szpitalu im. A. Jurasza i w Wojewódzkim Szpitalu Dziecięcym im. J. Brudzińskiego w Bydgoszczy.
Tym razem buźką pikniku jest mała Wielka Olka. U dziewczynki w sierpniu 2021 r. na nogach zaczęły pojawiać się siniaki, które nie znikały. Ola została skierowana na badania krwi do szpitala, wyniki badań jednoznacznie wskazywały na to że choruje na ostrą białaczkę limfoblastyczną. Rozpoczęła intensywne wycieńczające leczenie na oddziale onkologii dziecięcej. Po 7 miesiącach pobytu głównie w szpitalu, rozpoczęła tzw. leczenie podtrzymujące. Wiąże się to z codziennym przyjmowaniem "chemii" w tabletkach i wizytami kontrolnymi w poradni onkologicznej. Leczenie potrwa teoretycznie do sierpnia 2023 r.. I mocno trzymamy kciuki za Olkę ❤ A takich historii jak Oli można przytaczać bez liku. Na onkologię trafiają maluszki zaraz po narodzinach, dzieci zabrane ze swoich urodzin, chłopcy zgarnięci z boisk piłkarskich, a w ostatnim czasie nasze serca najbardziej poruszył los maleńkiej sieroty, która sama mierzy się z ta okrutną chorobą .. Na nowotwór nie ma reguły, może pojawić się w każdej rodzinie. I wtedy dziecko, rodzina wpada w okrutny wir choroby. I w tym trudnym czasie oprócz opieki medycznej najbardziej potrzeba drugiego człowieka, który poda pomocną dłoń. NIE WOLNO nam zostawiać RODZIN ONKOLOGICZNYCH z tym samych. Każdy ma coś, co może zaoferować drugiemu człowiekowi, a zwłaszcza gdy mowa o tych najsłabszych, najdelikatniejszych - wychudzonych kruszynkach z onkologii. POMÓŻMY IM PRZETRWAĆ TEN TRUDNY CZAS.
Wesprzeć można nas również wpłatą na konto
BNP Paribas: 56160014621838492930000001
tytuł: ONKO- ZBIÓRKA
Możliwość wpłaty z PayPal : stowarzyszenielatwopomagac@gmail.com
OSOBA DO KONTAKTU: Wioletta Górska TEL 698 291 913
____________________
Kalendarz wydarzeń odbywających się w Bydgoszczy miej zawsze pod ręką dzięki aplikacji mobilnej (Android i iOS).
______________________
Informacje o wydarzeniach przesyłajcie na adres wydarzenia@visitbydgoszcz.pl
______________________
Bydgoskie Centrum Informacji nie ponosi odpowiedzialności za jakiekolwiek zmiany miejsc, godzin i dat wydarzeń.