Rusza Fordońskie Kino pod Chmurką! - Pechowi Szczęściarze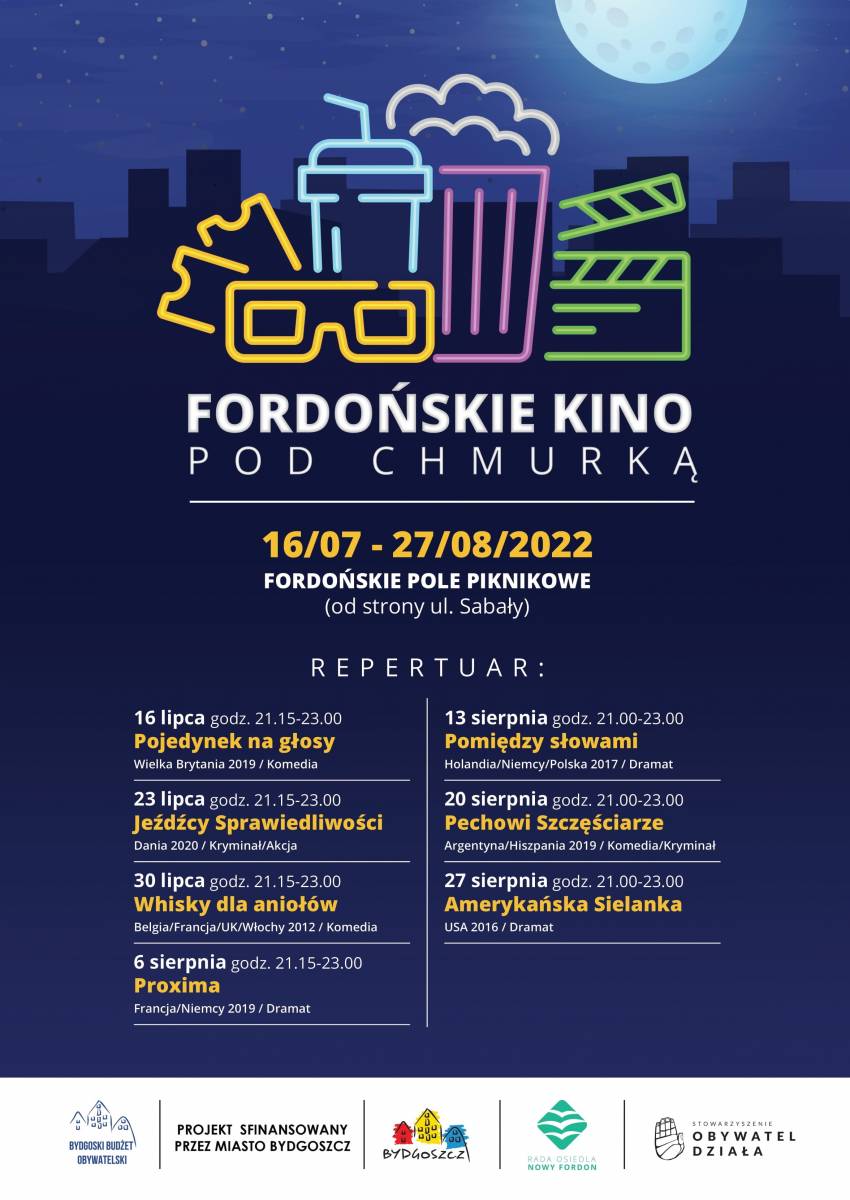 Informacje od Organizatora:
Rusza Fordońskie Kino pod Chmurką!
Plenerowe kino zawita do największej dzielnicy Bydgoszczy. Wszystko to za sprawą głosów mieszkańców oddanych w Bydgoskim Budżecie Obywatelskim. Pierwszy pokaz już w sobotę 16 lipca. Przed mieszkańcami siedem kinowych pokazów, które zakończa się wraz z ostatnim weekendem wakacji.
Kino plenerowe spodobało sie mieszkańcom miasta nad Brdą. Po Bartodziejach do grona osiedli w których będą organizowane pokazy dołącza Fordon. Pokazy odbywać się będą co sobotę w okresie od 16 lipca do 27 sierpnia. Oznacza to 7 otwartych pokazów z kinowymi z hitami w roli głównej. Miejscem realizacji "Fordońskiego Kina Pod Chmurką" będzie popularne miejsce organizacji różnych zewnętrznych wydarzeń – Fordońskie Pole Piknikowe. Polana znajduje się na Osiedlu Tatrzańskiem, pomiędzy ulicami Pelpińska, Orląt Lwowskich i Sabały.
Mieszkańcy Fordonu, w trakcie tych wakacji będą mogli zapoznać się z takimi tytułami jak: "Jeźdźcy Sprawidliwości" (Dania, 2020), "Proxima" (Francja/Niemcy, 2019) czy "Pomiędzy Słowami" (Polska 2017). Serię pokazów otwiera angielska komedia "Pojedynek na głosy". Pełen program i najświeższe informacje dostępna na profile facebookowym projektu pod adresem www.facebook.com/fordonskiekino.
Filmy wyświetlane będą na dużym ekranie o powierzchni 4 x 3 metry. Organizator zapewni również profesjonalne nagłośnienie oraz 100 leżaków plażowych. Pokazy rozpoczynać się będą tuż po godzinie 21:15 wraz z zachodem słońca. Zachęcamy do zabrania własnych kocy plażowych – mówi Filip Krauze, przedstawiciel Stowarzyszenia Obywatel Działa. Miejsca jest dużo. Nawet jeśli zabraknie leżaków w dalszym ciągu bedzie można wygodnie oglądać film. Namawiamy również do śledzenia naszego profile na facebook.com. Będzie to miejsce, w którym mieszkańcy zawsze znajdą aktualne informacje, zwłaszcza jeśli pogoda nie będzie dopisywać.
Projekt "Fordońskie Kino pod Chmurką" finansowane jest przez miasto Bydgoszcz w ramach Bydgoskiego Budżetu Obywatelskiego. Partnerem akcji jest Rada Osiedla Nowy Fordon.
______________________
Kalendarz wydarzeń odbywających się w Bydgoszczy miej zawsze pod ręką dzięki aplikacji mobilnej (Android i iOS).
______________________
Informacje o wydarzeniach przesyłajcie na adres wydarzenia@visitbydgoszcz.pl
______________________
Bydgoskie Centrum Informacji nie ponosi odpowiedzialności za jakiekolwiek zmiany miejsc, godzin i dat wydarzeń.