20 BYDGOSZCZ JAZZ FESTIVAL - BITWA JAZZOWA: Kasia Eliasz Quintet , ADAM LEMAŃCZYK TRIO
Gdzie?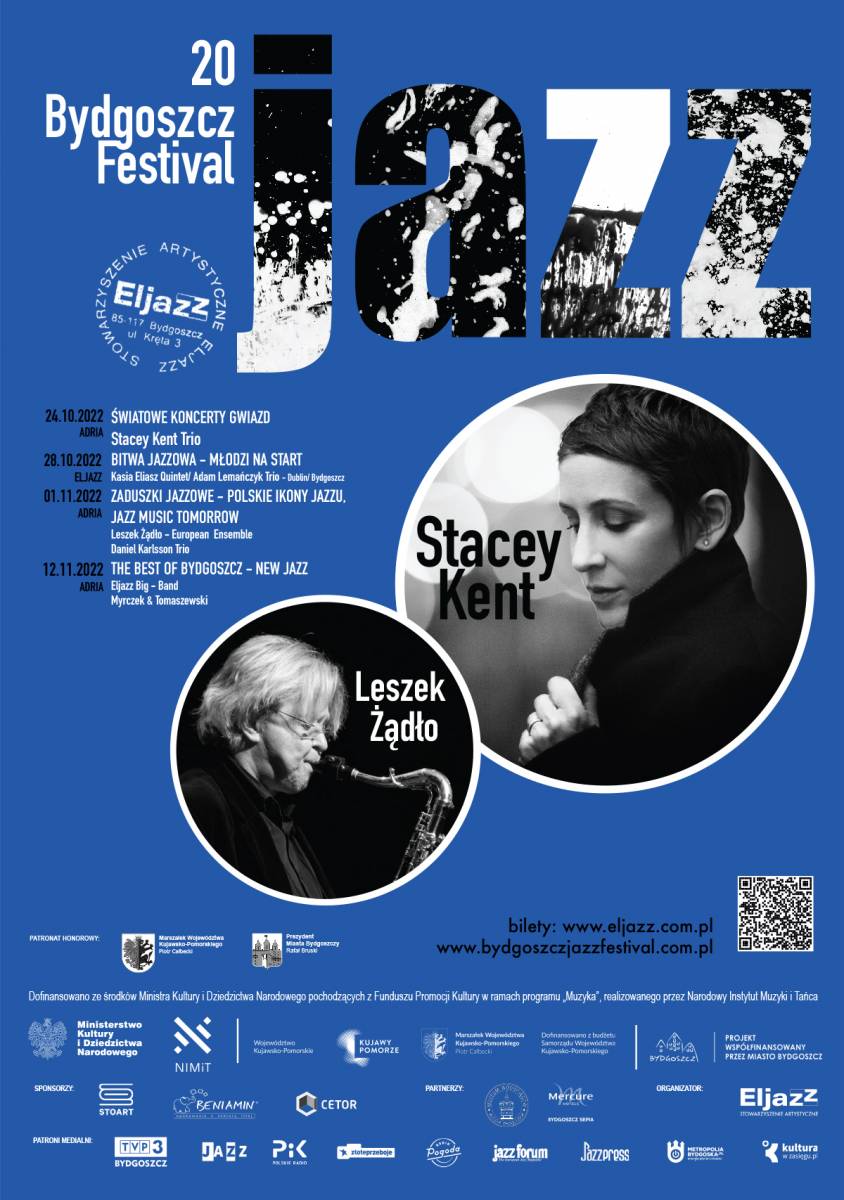 Informacje od Organizatora:
Kasia Eliasz Quintet – Dublin – Irlandia, Brazylia
Kasia Eliasz - Voice
Gustavo de Morais - Guitar / Arrangements
Maciej Blizinski - Bass
Tom Maxwell - Piano
Miles Ronayne – Drums
Kasia Eliasz studiowała Jazz na Akademii Muzycznej Newpark w Irlandii, gdzie obecnie mieszka oraz Śpiew Indyjski Hindustani na Swanadi School of Indian Classical Music. Kasia jest dyrektorem artystycznym dwóch projektów dla dzieci i młodzieży: Ta Tum Tum! I Tune in. Kasia została laureatem Music Bursary 2022 od Riverbank Arts Centre. Podczas bitwy jazzowej na gitarze towarzyszyć jej będzie Gustavo de Morais- brazylijski gitarzysta. Jego gra inspirowana jest fuzją brazylijskiego dziedzictwa i muzyki współczesnej, zaczerpniętej z takich muzyków jak João Gilberto, Daniel Santiago i John Scofield. Maciej Bliziński na kontrabasie i Miles Ronayne na perkusji oraz Tom Maxwell na fortepianie dopełnią brzmienie quintetu jazzowego.
ADAM LEMAŃCZYK TRIO – Bydgoszcz – Polska
Mateusz Krawczyk - perkusja,
Antoni Olszewski - kontrabas/gitara basowa oraz
Adam Lemańczyk - fortepian/instrumenty klawiszowe.
Adam Lemańczyk:– pianista, klawiszowiec. Urodził się w 1992 roku w Malborku. Swoją edukację muzyczną rozpoczął w wieku 7 lat w Państwowej Szkole Muzycznej im. Ignacego Jana Paderewskiego w Malborku. Następnie kontynuował naukę w Zespole Państwowych Szkół Muzycznych II stopnia im. Kazimierza Wiłkomirskiego w Elblągu w klasie Kordiana Góry, odbierając dyplom w roku 2011.
Kolejnym krokiem były studia na Akademii Muzycznej im. Feliksa Nowowiejskiego w Bydgoszczy w klasie Krzysztofa Herdzina, którą ukończył w roku 2016.
Założyciel jazz-rockowej grupy Omnivore, z którą wystąpił m. in. na Europejskich Integracjach Muzycznych w Żyrardowie (nagroda indywidualna), Festiwalu FAMA w Świnoujściu (I nagroda w kat. muzyka jazzowa), Krokus Jazz Festiwal, Jazzbląg Festiwal. Współpracował z takimi artystami oraz instytucjami jak: Wojtek Pilichowski (PiBand,PIGMA), Grzegorz Hyży, Mietek Szcześniak, Paweł Steczkowski, Bartosz Chajdecki, Anna Karwan, Anna Dąbrowska, Justyna Steczkowska, Łukasz Zagrobelny, Grzech Piotrowski (World Orchestra Grzech Piotrowski, Saturday Night Live Poland), Sound'n Grace, SOFA, Fisz Emade Tworzywo, ElJazz Big Band, Teatr Syrena, Teatr im. Wilama Horzycy, Teatr Muzyczny ROMA ("5 Last Years", "Ale Musicale!"), Filharmonia Pomorska, Telewizja Polska ("Bitwa na Głosy", "Voice of Poland").
Jest autorem muzyki własnej oraz wielu aranżacji muzyki poważnej, jazzowej oraz popularnej. Na co dzień pracuje jako instruktor w Akademii Muzycznej w Bydgoszczy na wydziale Dyrygentury, Jazzu i Edukacji Muzycznej.
______________________
Kalendarz wydarzeń odbywających się w Bydgoszczy miej zawsze pod ręką dzięki aplikacji mobilnej (Android i iOS).
______________________
Informacje o wydarzeniach przesyłajcie na adres wydarzenia@visitbydgoszcz.pl
______________________
Bydgoskie Centrum Informacji nie ponosi odpowiedzialności za jakiekolwiek zmiany miejsc, godzin i dat wydarzeń.