Oficerki. O policji. Fantazja oparta na faktach
Gdzie?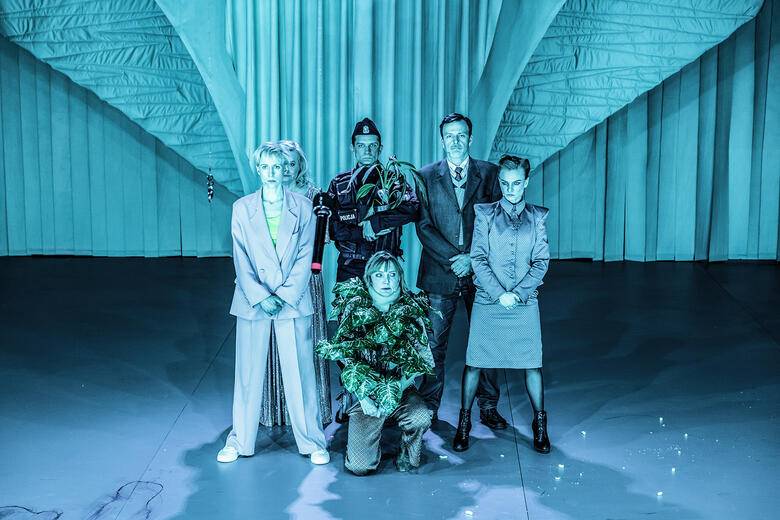 Spektakl "Oficerki" jest fantazją opartą na faktach i świadectwach. Próbom towarzyszą spotkania zespołu z policjantkami.
Działają w zmaskulinizowanym świecie. Wiedzą, jak ważne jest stawianie granic, egzekwowanie reguł i panowanie nad sobą. Muszą radzić sobie z własnymi emocjami, nie zważając na agresję tych, których mają chronić. W dzień i w nocy, niezależnie od pogody i nastroju dbają o porządek. Toną w pracy. Policjantki – martwe pole feministycznego dyskursu.
Stoją murem za mundurem, czy to mundur stawia je pod ścianą? To on sprawia, że niczym za dotknięciem magicznej różdżki z realnych zapracowanych, zmęczonych, ambitnych, pokręconych, radosnych czy pedantycznych kobiet stają się nosicielkami państwowego monopolu przemocy. Ich ciała – te naznaczone bliznami po cesarskich cięciach, przemocowych związkach i wypadkach przy pracy – przeobrażają się w znak w równaniu demokracji i patriarchatu. Znak, który w istocie jest niewiadomą, pod którą różne strony społecznego sporu podstawiają własne wartości.
Co bowiem niesie ze sobą policjantka – bezpieczeństwo? Przemoc? Porządek? Władzę? Jest profesjonalistką, która pokonała bariery w męskim środowisku? Opiekunką, która zgodnie z hasłem polskiej policji "pomaga i chroni"? Strażniczką sprawiedliwości? Figurą systemowego zła i opresji państwa? Zdrajczynią kobiecej sprawy? Ofiarą seksizmu i dyskryminacji? Czy w ogóle potrafimy oddać głos jej samej – zakładniczce naszej wyobraźni?
Spektakl Oficerki jest fantazją opartą na faktach i świadectwach. Próbom towarzyszą spotkania zespołu z policjantkami. Zderzenie naszych, cywili, wyobrażeń i stereotypów z ich opowieściami, stało się punktem wyjścia do przyjrzenia się umowie społecznej, w ramach której rzekomo poruszamy się wszyscy. Czy rzeczywiście ją zawarliśmy? W co gramy, kiedy zawieramy ze sobą rozmaite umowy – w domu, w szkole, w pracy, w szpitalach i w urzędach, na ulicach? Czy dają one nam poczucie bezpieczeństwa czy wręcz odwrotnie? I czy potrafimy umówić się na coś innego?
Premiera:
18.03.2022, Teatr Komuna Warszawa
25.03.2022, Teatr Polski w Bydgoszczy
Spektakl został zrealizowany w ramach programu HUB Kultury KW finansowanego przez m.st. Warszawa.
____________________
Kalendarz wydarzeń odbywających się w Bydgoszczy miej zawsze pod ręką dzięki aplikacji mobilnej (Android i iOS).
______________________
Informacje o wydarzeniach przesyłajcie na adres wydarzenia@visitbydgoszcz.pl
______________________
Bydgoskie Centrum Informacji nie ponosi odpowiedzialności za jakiekolwiek zmiany miejsc, godzin i dat wydarzeń.