Spotkanie poetyckie z Jarosławem Jakubowskim
Gdzie?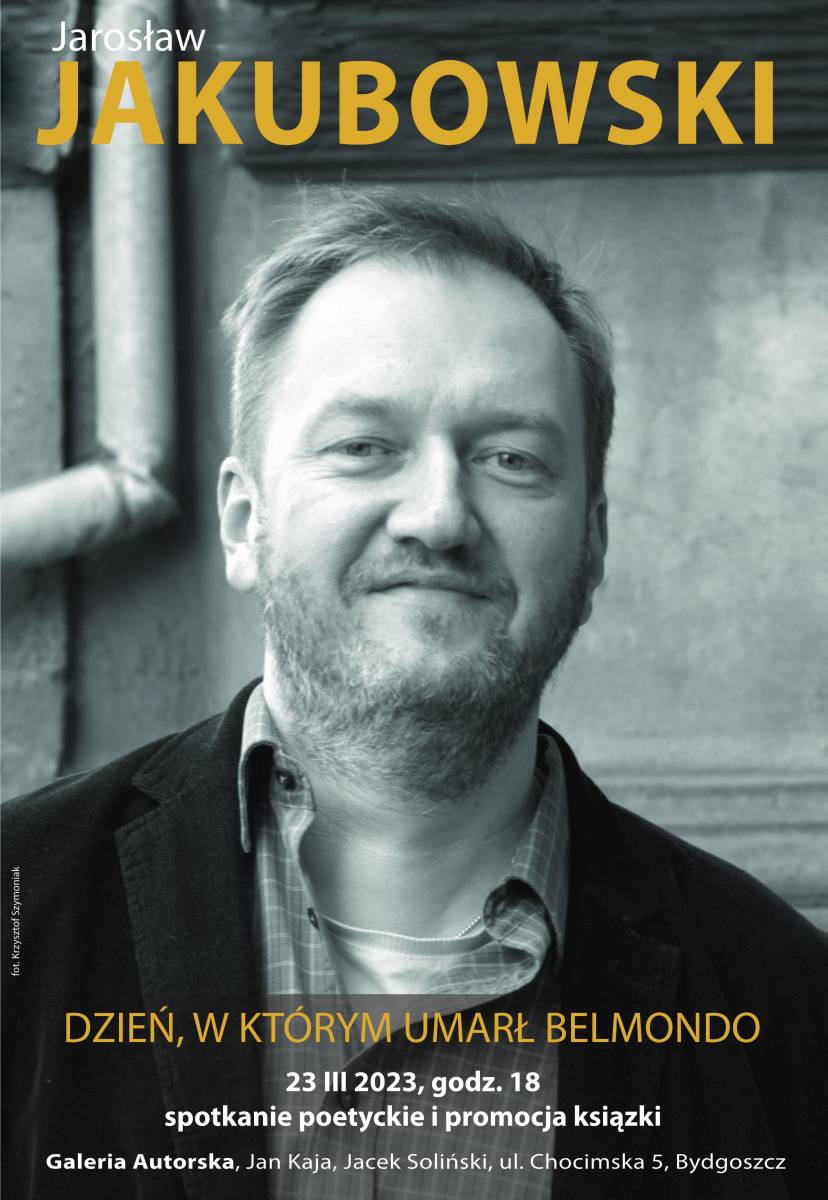 Spotkanie poetyckie z Jarosławem Jakubowskim pt. "Dzień, w którym umarł Belnondo" oraz promocja książki.
Jarosław Jakubowski urodził się w 1974 roku w Bydgoszczy. Poeta, prozaik, dramatopisarz. Autor tomów wierszy, między innymi: Pseudo, Światło w lesie, Wzruszenia, Bardzo długa zima, Dzień, w którym umarł Belmondo, powieści i zbiorów opowiadań: Slajdy, Cyryl, dlaczego to zrobiłeś?, Oczy pełne strachu, Rzeka zbrodni, Hejter, Wojna, Ciemna Dolina oraz wyborów sztuk teatralnych Generał i inne dramaty polityczne, Prawda i inne dramaty, Witaj Barabaszu, Czerwony autobus. Didaskalia, Znaki (w przygotowaniu).Laureat Grand Prix 6. Festiwalu Polskich Sztuk Współczesnych "Raport" 2011 w Gdyni za Generała. Laureat nagrody głównej Festiwalu Dwa Teatry 2019 w Sopocie za scenariusze spektakli telewizyjnych Generał i Znaki. Współpracownik Dwumiesięcznika Literackiego "Topos". Należy do Stowarzyszenia Pisarzy Polskich. Mieszka w Koronowie.
W tomie wierszy "Dzień, w którym umarł Belmondo" Eros i Tanatos spotykają się, aby podjąć próbę negocjacji. Temu spotkaniu podporządkowana jest dwudzielna, symetryczna struktura książki. Otwierający ją rozdział "Kalendarz" zawiera utwory nasycone opisami życia w przeróżnych jego przejawach. Rozdział "Klepsydra" przynosi z kolei wiersze bardziej wsobne i ascetyczne, elegijno-lamentacyjne. Nawiązanie do wspomnieniowych opowiastek Tadeusza Konwickiego rzuca się w oczy, ale nie jest oczywiste. Mamy tu bowiem zarówno poetyckie komentarze do rzeczywistości (jak choćby wiersz tytułowy), jak i zupełnie od rzeczywistości (przynajmniej materialnej) oderwane wizje bliższe raczej snom (wiersz-tryptyk "Brzeg"). Kalendarzowej ciągłości i cykliczności towarzyszy nieodwołalność przesypywania się piasku przez wąską talię klepsydry. Bo w istocie, to co upojne i zmysłowe, staje się w tych wierszach emblematem przemijania. Wydaje się więc, że Eros i Tanatos dochodzą do porozumienia. Gdyby jednak było to takie proste, poezja byłaby szlachetnym hobby pięknoduchów. Rzecz jasna jest nim, ale jednocześnie sama siebie taką kwestionuje, próbując zagarnąć więcej. I o tym zmaganiu też jest ta książka.
Wydawnictwo FORMA, Szczecin 2022
______________________
Kalendarz wydarzeń odbywających się w Bydgoszczy miej zawsze pod ręką dzięki aplikacji mobilnej (Android i iOS).
______________________
Informacje o wydarzeniach przesyłajcie na adres wydarzenia@visitbydgoszcz.pl
______________________
Bydgoskie Centrum Informacji nie ponosi odpowiedzialności za jakiekolwiek zmiany miejsc, godzin i dat wydarzeń.