Rowerowa Stolica Polski - rajd Bydgoszcz - Łabiszyn
Gdzie?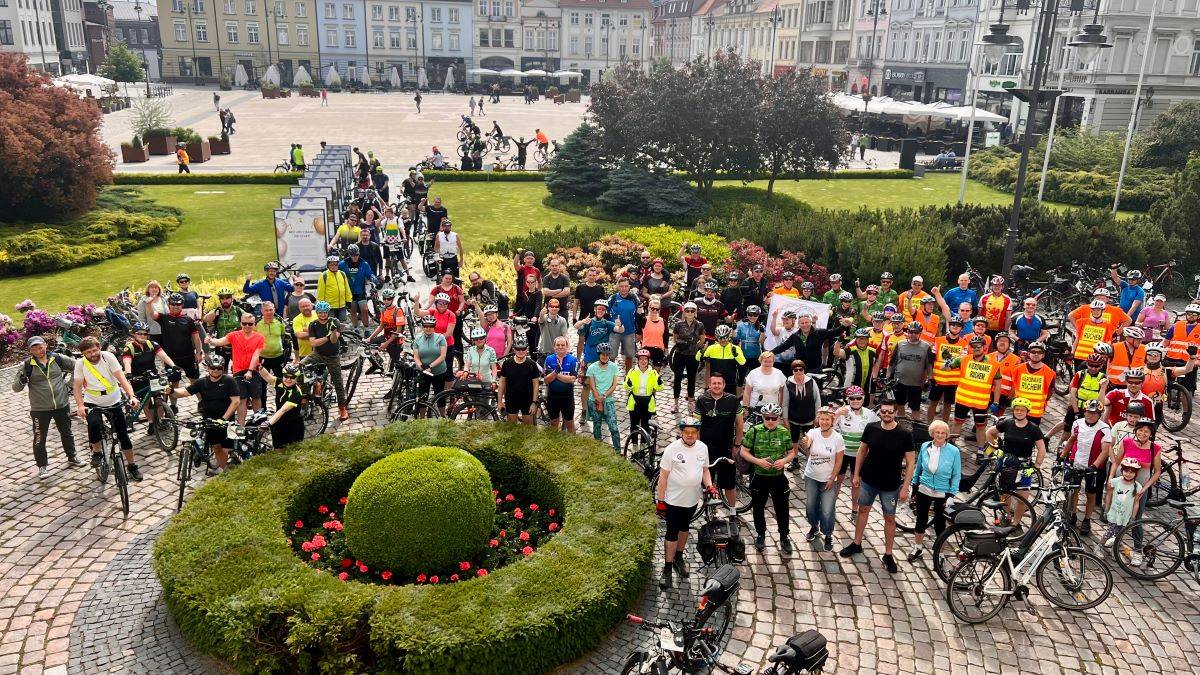 Informacje od Organizatora:
1 czerwca startuje rywalizacja o tytuł Rowerowej Stolicy Polski. Impreza, której organizatorem jest miasto Bydgoszcz odbędzie się w tym roku po raz piąty. Już dziś zapraszamy do udziału w przejazdach rowerowych organizowanych w ramach RSP w czerwcu br. Rajdy to świetna okazja do kręcenia kilometrów dla Metropolii Bydgoszcz, integracji rowerzystów i aktywnego spędzania czasu. Zapraszamy do zapisów!
Pierwszy rajd, inaugurujący rywalizację w ramach Rowerowej Stolicy Polski rozpocznie się o północy z 31 maja na 1 czerwca br.
Kolejne wspólne przejazdy odbędą się w następujących terminach:
3 czerwca – Bydgoszcz – Łabiszyn, start: godz. 10;
10 czerwca – Bydgoszcz – Solec Kujawski/Nowa Wieś Wielka (jeżeli prom będzie czynny przepłyniemy na druga stronę Wisły), start: godz. 10;
17 czerwca – Bydgoszcz – Pruszcz, start: godz. 10;
24 czerwca – Bydgoszcz – Nakło, start: godz. 10;
30 czerwca – nocny rajd kończący RSP po mieście, start: godz. 22.
Nocne rajdy są bezpłatne i nie trzeba się na nie zapisywać. Na pozostałe należy się zapisać - koszt udziału to 5 zł. Zapisy będą udostępniane na 7 dni przed rozpoczęciem każdego z przejazdów. Wszystkie rajdy startują spod bydgoskiego ratusza.
Przypomnijmy, że od 21 marca trwał czas treningów przed startem rywalizacji. Wszystkie wykręcone kilometry były także rejestrowane – tak samo, jak po 1 czerwca br. kiedy ruszy rywalizacja RSP.
Liderem w kategorii Miasta jest Metropolia Bydgoszcz, która wykręciła aż 638954 km. Druga jest Zielona Góra - 348127 km, a trzecia Biała Podlaska - 243581 km. Metropolia Bydgoszcz przygotowała specjalne nagrody dla tych, którzy zdecydują się kręcić w czerwcu właśnie dla niej.
Wszyscy, którzy pokonają od 400 km do 800 km otrzymają bidon sportowy, od 801 km do 1200 km zapięcie rowerowe, 1201 km lub więcej – specjalna żółta koszulka RSP marki SISU. Nagrody otrzymają także najbardziej rowerowe szkoły.
Podczas naszych cotygodniowych przejazdów po regionie będzie szansa zdobyć upominki od Aktywnej Bydgoszczy. Na każdym sobotnim rajdzie zostaną rozlosowane 2 zestawy nagród. Natomiast na finał, jeden z aktywnych uczestników rajdów ma szansę wygrać specjalny voucher o wartości 500 złotych do sklepu sponsora RSP – CentrumRowerowe.pl
______________________
Kalendarz wydarzeń odbywających się w Bydgoszczy miej zawsze pod ręką dzięki aplikacji mobilnej (Android i iOS).
______________________
Informacje o wydarzeniach przesyłajcie na adres wydarzenia@visitbydgoszcz.pl
______________________
Bydgoskie Centrum Informacji nie ponosi odpowiedzialności za jakiekolwiek zmiany miejsc, godzin i dat wydarzeń.