Feltar, Adam Kempa - koncerty w Szpulce
Gdzie?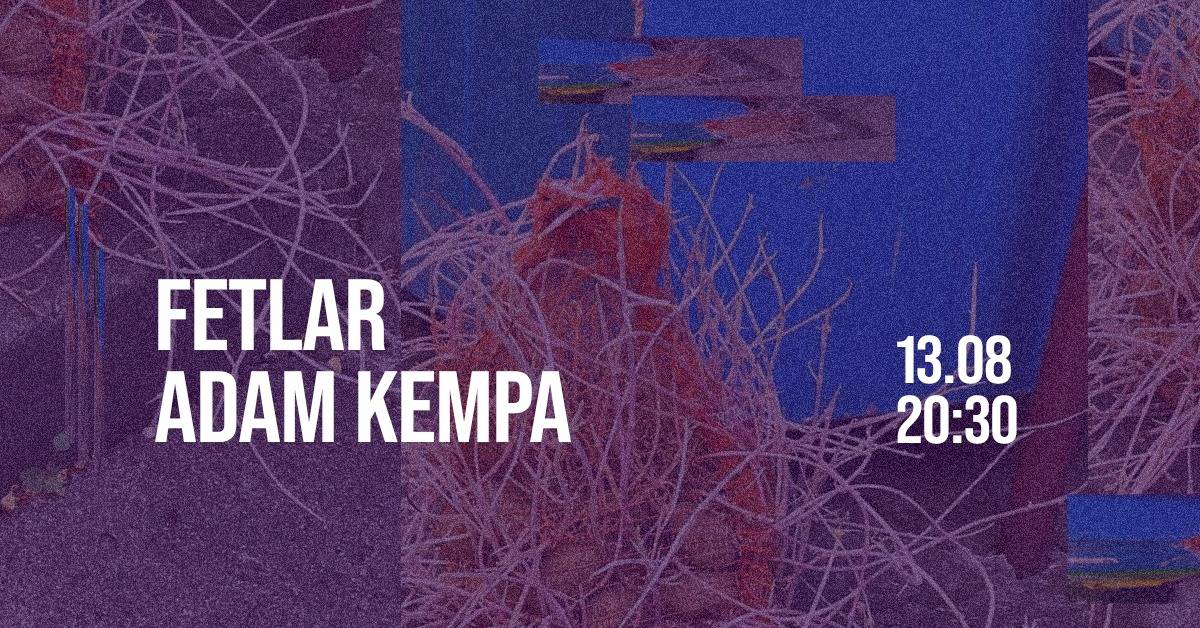 Informacje od Organizatora:
Zgrany duet, nagrali razem niejedno, trochę zwiedzili, trochę dworowali. Tym razem zagrają osobno: Fetlar (Mateusz Lubiewski) i Adam Kempa Ensemble Orchestra Music Group Band Centre (Adam Kempa).
Weźmie, przyjdzie i zagra niejaki Fetlar, czyli znany i lubiany człowiek Mateusz Lubiewski. Twórca działający na scenie od dobrych kilku lat m.in w duecie Kempa/Lubiewski w ramach którego dotychczas pojawiły się dwa wydawnictwa - Do Oraju Barwistanu i Godot. Aktualnie współtworzy kwintet Godot, a także bydgoską inkarnację orkiestry improwizowanej (BOI). Jako Fetlar wydał w tym roku w oficynie Opus Elefantum album Inner Forensics.
Adam Kempa z kolei wziął i wyprowadził się z Bydgoszczy do Wrocławia. Ale nie jest też tak, że dom opuszcza się prawdziwie, nie jest tak, że dom opuszcza się na zawsze. Poza tym, co to za wyprowadzka, skoro co chwilę ten dżentelmen się tu pojawia. Pojawi się też i tym sierpniowym weekendem, żeby kazać Wam przyjść na koncert. Adaś to producent, wokalista, operator gitar i syntezatorów. Związany z zespołami: Godot, Caluskov 102, Rozwód, 5G. Zafascynowany punktem, w którym awangardowe środki wyrazu spotykają się z rozsądną nutką songwriterstwa, tworząc ambitne i przyciągające dźwięki.
Plan jest taki, że wydarzyć się może wszystko. Może posłuchamy płyt Inner Forensics i Musique Non-Concrete, może muzyczki z kompa, może pogadamy ze sceny i z krzesełek, może zamienimy się miejscami, może nic wcale nie uda się osiągnąć. Czy będą przedpremierowe utwory nowego Godota? A dajcie spokój. W każdym razie na pewno nic nie będzie przypadkowe.
Wszystkie obliczenia wskazują na to, że będzie to pierwszy koncert Fetlara od premiery płyty. Dla Kempy jest to z kolei 25 koncert od premiery płyty i raczej ostatni w takiej formule, pora na nowe. Także rarytas opcja speklakl wrażeń future legendary show.
https://adamkempaensambleorchestramusicgroupband.bandcamp... https://opuselefantum.bandcamp.com/album/inner-forensics
Bilety występują w dwóch wariantach:
30 zł - bilet normalny, bilet dostojny, bilet prawdziwy. Bilet, który płacisz jeśli chcesz docenić to co się dzieje i zapłacić tyle, ile się zapłacić powinno.
15 zł - bilet ulgowy, jeśli czujesz że tylko na taki możesz sobie teraz pozwolić. I to jest okej, nie zadajemy pytań, lepiej żeby Cię nie zabrakło.
____________________
Kalendarz wydarzeń odbywających się w Bydgoszczy miej zawsze pod ręką dzięki aplikacji mobilnej (Android i iOS).
______________________
Informacje o wydarzeniach przesyłajcie na adres wydarzenia@visitbydgoszcz.pl
______________________
Bydgoskie Centrum Informacji nie ponosi odpowiedzialności za jakiekolwiek zmiany miejsc, godzin i dat wydarzeń.