Letnie Koncerty Organowe w Katedrze Bydgoskiej
Gdzie?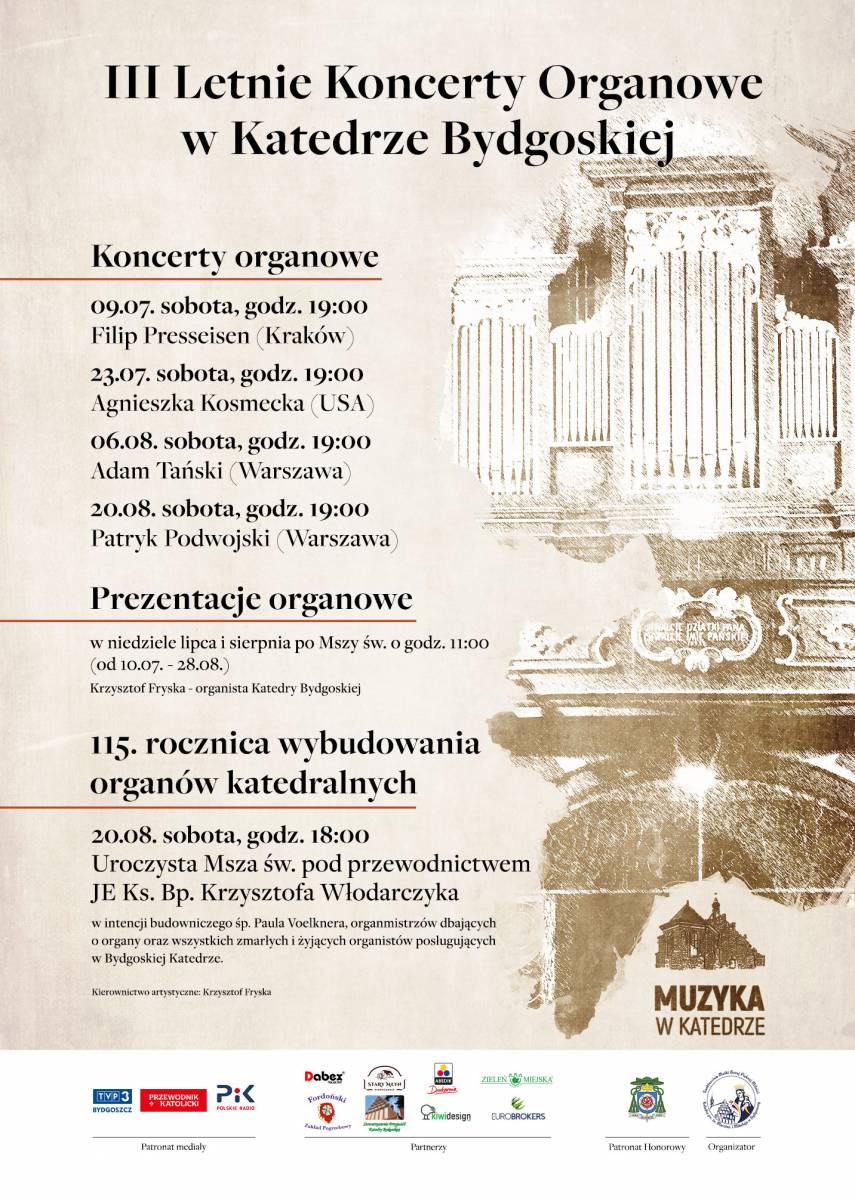 Informacje od Organizatora:
Letnie Koncerty Organowe w Katedrze Bydgoskiej to wydarzenie kulturalne, które ma na celu "ożywić" muzycznie Katedrę Bydgoską, jak i tę część miasta. Ma również przypomnieć mieszkańcom Bydgoszczy i regionu jakim skarbem jest Katedra, nie tylko pod względem architektonicznym, czy plastycznym. Świątynia może poszczycić się znakomitą akustyką. W wielu miastach w Polsce, w katedrach, kościołach itp. miejscach odbywają się podobne wydarzenia. Obecnie w Bydgoszczy nie ma innej inicjatywy tego rodzaju. Po raz pierwszy to wydarzenie odbyło się w 2020r. z inicjatywy organisty Katedry Bydgoskiej, p. Krzysztofa Fryski. Miało charakter krótkich koncertów organowych – tzw. prezentacji – w niedziele lipca i sierpnia po Mszy świętej o godz. 11:00. W roku 2021 oprócz niedzielnych prezentacji, głównie dzięki otwartości serca Księdza Proboszcza Parafii Katedralnej, Księdza Infułata Stanisława Kotowskiego, udało się zorganizować po raz pierwszy koncerty wieczorne. Wystąpili wówczas znakomici polscy organiści: Michał Markuszewski – Warszawa, Szymon Olszański – Bydgoszcz, Arkadiusz Popławski – Racibórz/Frombork.
W tym roku zmieniona została nieco formuła stąd też zmieniła się nieco nazwa. Wcześniej brzmiała ona "Letnie Prezentacje Organowe", a obecnie "Letnie Koncerty Organowe". Zmiana wynika z faktu, iż główny nacisk położony został na koncerty wieczorne, podczas których wystąpią znakomici polscy organiści z kraju i zza granicy. Oczywiście zachowane zostaną niedzielne prezentacje organowe. Wrażliwości na muzykę i otwartość serc kilku osób pozwoliła zaprosić do wystąpienia podczas tegorocznej edycji wspaniałych polskich organistów z kraju i zza granicy. Podczas Letnich Koncertów
Organowych w Katedrze Bydgoskiej wystąpią:
- 9 lipca - Filip Presseisen,
- 23 lipca - Agnieszka Kosmecka,
- 6 sierpnia - Adam Tański,
- 20 sierpnia - Patryk Podwojski;
Wszystkie koncerty odbędą się co dwa tygodnie w sobotnie wieczory, o godz.. 19:00. Wstęp wolny!
Prezentacje organowe będą wykonywane w niedziele lipca i sierpnia po Mszy świętej o godz. 11:00, a ich wykonawcą będzie p. Krzysztof Fryska, organista Katedry. Organizatorem festiwalu jest Parafia Katedralna pw. św. Marcina i Mikołaja w Bydgoszczy. Patronatem honorowym III Letnie Koncerty Organowe w Katedrze Bydgoskiej objął JE Ksiądz Biskup Krzysztof Włodarczyk, a patronatem medialnym TVP3 Bydgoszcz , Polskie Radio PiK oraz Przewodnik Katolicki oddział bydgoski. W tym roku przypada 115. rocznica wybudowania organów katedralnych. Każda rocznica to okazja do okazania pamięci i wdzięczności. Stąd też 20 sierpnia o godz. 18:00, w Katedrze Bydgoskiej zostanie odprawiona uroczysta Msza święta w intencji:
- śp. Paula Voelknera - budowniczego organów katedralnych,
- organmistrzów, którzy dbali przez wszystkie lata o instrument,
- wszystkich organistów (zmarłych i żyjących), którzy pracowali w Farze/Katedrze Bydgoskiej;
Mszy świętej przewodniczyć będzie JE Ks. Bp Krzysztof Włodarczyk.
Partnerami wydarzenia są: firma Dabex z Warszawy, firma Eurobrockers z Bydgoszczy, Stowarzyszenie Przyjaciół Katedry Bydgoskiej, Fordoński Zakład Pogrzebowy, Drukarnia Abedik z Bydgoszczy, biuro graficzne Kiwi Design z Dobrcza, zakład pogrzebowy Zieleń Miejska z Bydgoszczy oraz restauracja Stary Młyn z Bydgoszczy.
Kierownictwo artystyczne: Krzysztof Fryska.
______________________
Kalendarz wydarzeń odbywających się w Bydgoszczy miej zawsze pod ręką dzięki aplikacji mobilnej (Android i iOS).
______________________
Informacje o wydarzeniach przesyłajcie na adres wydarzenia@visitbydgoszcz.pl
______________________
Bydgoskie Centrum Informacji nie ponosi odpowiedzialności za jakiekolwiek zmiany miejsc, godzin i dat wydarzeń.